Save articles for later
Add articles to your saved list and come back to them any time.
Chinese authorities have banned a Mongolian theatre production soon to show in London's West End by shutting down power, blocking 130 production staff and putting the cast under constant surveillance.
The Mongol Khan, which is due to open at the London Coliseum next month, was approved by Chinese authorities to perform in the city of Hohhot in Inner Mongolia, China's northernmost province.
The Mongol Khan on stage.Credit: Sanghee Liu
But 30 minutes before the play was due to start on September 19, the performance at the Ulaan Theatre was shut down due to a power outage.
The multimillion-dollar production has spent the past two weeks at an alternative venue in the town of Ordos, where they were subject to constant surveillance, according to cast members.
"They were not permitted to retrieve their set, costumes, or technical equipment, and therefore were unable to rehearse, perform or even return home," said a Mongol Khan spokeswoman.
Thousands of tickets were sold for the performance, leaving theatregoers turned away without explanation.
Witnesses said they saw Mongolian stage production workers suddenly being driven away by Chinese nationals before 1300 spectators were ordered to leave after a message was delivered over the speakers at the theatre.
"The production team of 130 members, including six British nationals, were expelled from the theatre building where £2 million [$3.8 million] worth of set and technical equipment was set up," the Mongol Khan spokeswoman said.
"The production team was also banned from wearing traditional Mongolian dress in public."
The shutdown follows growing restrictions on Mongolian culture in China by Beijing.
Inner Mongolian activists say the Chinese government is systematically wiping out Mongolian culture and assimilating its shrinking population into the Han Chinese majority.
Beijing says it has lifted education and living standards across a region that has seen double-digit economic growth for most of the past two decades.
In May, activists claimed Chinese police arrested prominent Inner Mongolian writer Lhamjab Borjigin, who had been living in exile in Mongolia's capital Ulaanbaatar, and deported him to China.
In June, herders in the Zaruud region were run over when they attempted to block the takeover of their pastures by a Chinese company.
Mongolian women walk up to a statue of Genghis Khan in Ulaanbaatar's main square. Credit: Sanghee Liu
Then in September, all Mongolian-language schools in Inner Mongolia were ordered to switch to teaching in Chinese. The order followed years of Mongolian language classes being reduced and teachers being forced into exile.
"War and killing is one thing, but losing one's own identity, that's worse," former Mongolian language teacher Balijinima Bai told this masthead from exile in Ulaanbaatar in July.
Regional officials told local leaders earlier this year that schools must "build Chinese national consciousness and community, and deepen education in national unity".
The dispute over The Mongol Khan now threatens to further strain relations between China and Mongolia.
Ulaanbaatar has been careful to manage its relationship with its superpower neighbour and largest trading partner as it attempts to diversify its economic partnerships. It has grown increasingly wary of Beijing's crackdown on ethnic Mongolians living in China.
The Mongolian government has invested heavily in The Mongol Khan as part of an international public relations campaign to pull in investment and tourism.
So far, the reviews have been positive, with the London Telegraph suggesting it might be "the next Lion King".
But the showcase of Mongolian culture angered Chinese authorities, which requested the removal of references to the Hun (Hunnu Empire) and Khan (which means king in Mongolian) from the script.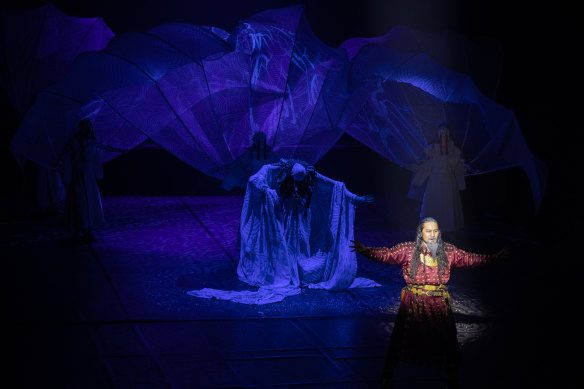 Inner Mongolian activists say the Chinese government is systematically wiping out Mongolian culture.Credit: Sanghee Liu
The Mongol leader Genghis Khan conquered Beijing in 1215, leading to the largest contiguous land empire in history.
It ushered in a period of Mongol rule that is also viewed as a historical blight on the nation by some Han Chinese nationalists who have been emboldened by growing patriotism under President Xi Jinping.
In 2020, Chinese authorities demanded that a museum in the French city of Nantes delete words, including Genghis Khan, empire and Mongol from their exhibition on Genghis Khan.
The show was put on hold for three years but is due to open in Nantes next month.
The director of The Mongol Khan, Hero Baatar, said despite the setbacks in China, he was now more determined than ever to bring the production to London.
"This will be the first time any Mongolian production has been performed anywhere in Europe," he said.
Get a note directly from our foreign correspondents on what's making headlines around the world. Sign up for the weekly What in the World newsletter here.
Most Viewed in World
From our partners
Source: Read Full Article