London: The annual defence and foreign ministers' talks held between Australia and the UK have been delayed indefinitely and may not be held at all this year because of the Brexit chaos and uncertainty engulfing Britain.
The Sun-Herald and The Sunday Age have learned the talks between both countries' foreign and defence ministers, called AUKMIN, were due to be held in Canberra in mid-September.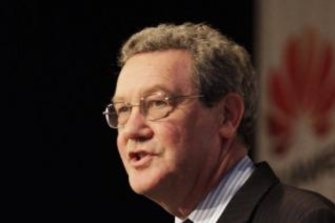 In 2006, Alexander Downer was key to establishment of talks between foreign ministers and defence ministers from Australia and the UK.Credit:AFR
AUKMIN is billed by Defence as the "premier forum for the discussion of high-level foreign policy, defence and security issues between Australia and the United Kingdom" but has this year fallen victim to Britain's rolling political crisis.
Asked when the talks were due to be held, a spokesperson for the Department of Foreign Affairs and Trade (DFAT) said Australia was committed to holding the talks.
"The Australian government remains committed to hosting the next Australia-UK ministerial meeting," the spokesperson said.
"A date has not yet been determined."
A spokesman for the UK government said: "The next meeting will be scheduled at an appropriate time for all parties involved.
"The UK-Australia ministerial talks offer an opportunity to reaffirm our strong partnership and discuss shared foreign policy, defence, industry and security issues."
But with Britain poised to head to the polls, potentially in late November, that would leave only the month of December for AUKMIN to be held because the UK would be in purdah or caretaker government mode.
Former foreign minister and Australian high commissioner to the UK Alexander Downer said while the AUKMIN talks, which he established in 2006 were important, the strength of the bilateral relationship meant it was no big deal if it was skipped from time-to-time.
"It's really important to have them as an annual event but obviously just occasionally this is going to happen," Downer said.
The rolling political crisis engulfing Westminster since the UK voted on Brexit in 2016 has also seen four changes in the secretary of defence and three of those in the last 18 months.
Defence Minister Linda Reynolds visited London in July to try and lock in a date with her then-counterpart Penny Mordaunt. But less than two months later, Mordaunt was sacked and sent to the backbench, following Boris Johnson's ascension to the prime ministership.
Huawei decision still pending
The AUKMIN talks are not the only national security matter falling victim to the UK's political chaos.
The Johnson administration is yet to make its decision on whether or not to allow Huawei, the Chinese telecommunications manufacturer, to supply Britain's 5G rollout.
A decision taken by Theresa May's government to allow Huawei access was shelved when it was sensationally leaked, and the former defence secretary Gavin Williamson was sacked, accused of being the leaker – something he denies.
Culture Secretary Nicky Morgan says the decision will be made in the British autumn.
"It's a live discussion…we would expect to have that discussion in the autumn about where we stand," Morgan told the recent Conservative Party conference in Manchester.
When questioned about his stance, Defence Secretary Ben Wallace said the government would apply the British sense of "fair play" when making the decision.
"There's a broader issue here which is effectively country-agnostic, which is if you want to invest in our critical national infrastructure, want access to British consumers … there are international laws rules respecting IP that we should all live by.
"And if you want access to my constituents and my money and my consumers then we should consider, being British, fair play counts and how we resolve those issues around Huawei will go to the heart of that broader issue but I think the government will come to a decision pretty soon," he said.
The United States and Australia want the UK, a "Five Eyes" intelligence-sharing partner, to also implement a ban on Huawei.
Source: Read Full Article