Liberal Senator Andrew Bragg has shot down suggestions the $168 billion Future Fund should be raided to stimulate the economy or to prop up super funds struggling to meet demand for early withdrawals.
"The Future Fund has been one of the greatest successes, an incredible success in Australian economic policy," Senator Bragg told The Age and The Sydney Morning Herald. "It has effectively eliminated the very significant amount of Commonwealth liabilities and hasn't had a contribution for more than a decade. I wouldn't be tinkering with that."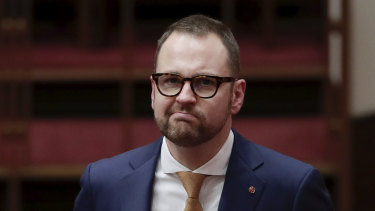 Liberal Senator Andrew Bragg says the coronavirus pandemic should not give cover to super funds' "imprudent practices."Credit:Alex Ellinghausen
The Morrison government over the past month has introduced a suite of extraordinary policies to reduce the economic impact of the coronavirus crisis. These include a mammoth $192 billion stimulus package, policies to encourage banks to defer mortgages, and emergency rules allowing people who have lost their jobs to access up to $20,000 in superannuation savings ahead of schedule.
There are concerns some super funds that have invested heavily in unlisted assets that are difficult to sell quickly will encounter liquidity issues if there is a rush of withdrawals under the early access scheme. Treasurer Josh Frydenberg this week ruled out the RBA providing support to these funds, and Senator Bragg said the Future Fund should also not be enlisted to prop them up.
"If any [super] fund is found to have major problems, they have clearly breached their prudential obligations," Senator Bragg said. "The members of those funds will start to ask questions about the competency of their trustees."
"The super funds receive 9.5 per cent of peoples' wages. They're getting effectively free money and they have to do nothing to collect it. This has created a huge sense of complacency and privilege."
A former guardian of the Future Fund, who spoke on the condition of anonymity, said while it was unlikely the Future Fund's cash reserves would be used to combat the crisis, it was not impossible.
"There may be scope for the Future Fund, properly structured, if the banks have capital issues to lend or to provide tier one or hybrid capital on certain convertible terms and re-establishing the balance sheets of banks or other companies," he said. "The government can print unlimited money so I think they'd rather keep it [Future Fund] pure.
"I'm sure deep in the bowels of the Treasury they've thought of that," he said.
Professor of finance at the University of Melbourne, Kevin Davis, said there is no reason the Future Fund would not be able to loan money to super funds or other sectors of the economy.
"Lending money on a secured basis I don't think would be out of it's mandate," Professor Davis said.
Rainmaker's head of research Alex Dunnin said the fund could be a source of capital for special purpose bonds or could support the superannuation sector to fund the federal government's emergency early access scheme.
"There's the Future Fund sitting by, saying hardly a peep during this crisis. It's time the government, the overseer of the Future Fund and its only stakeholder, brought them into the campaign to save the Australian economy," Mr Dunnin said.
The Future Fund's $23 billion in cash reserves, that make up 13.7 per cent of its total assets, should be viewed as a "weapon in the government's arsenal", Mr Dunnin said.
"The government owns this fund. It's a fiscal fund set up by the government. They should be part of the discussion," Mr Dunnin said.
The Future Fund declined to comment.
Source: Read Full Article