A market pullback from five days of solid gains was inevitable. A few hours ago Bitcoin broke through support and dropped below $4,000 pulling all cryptos in the top twenty five down with it. All except one that is as Tron is resisting the rout and posting solid gains today.
TRX On The Up
According to Coinmarketcap TRX has made 14% on the day and is the only cryptocurrency in the green in the top twenty five. A few hours ago TRX surged from $0.0175 to $0.0225, or about 25% in just a couple of hours. It has since pulled back a little and is trading around $0.0205 at the time of writing which is still a solid gain over the past 24 hours while all other crypto assets have fallen.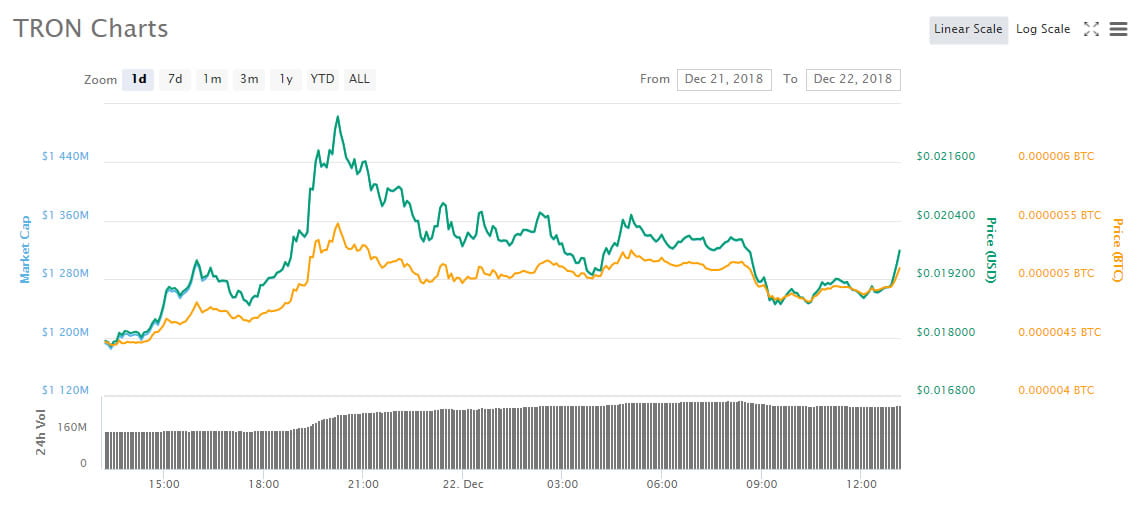 Daily trade volume for TRX has also doubled from $166 to almost $300 million. Binance is handling the majority of this trade right now with over 27%. Since last weekend Tron has made over 60% in price and increase trade volume by over 430% as crypto markets rallied.
Since the same time last month TRX is up 40% when many of its competitors, such as Ethereum, have fallen heavily and failed to recover. In comparison ETH is down 20% over the same time period.
Justin Sun has been feeling the joy at today's solid performance and took to Twitter to share it;
Other industry observers have speculated as to the cause which includes the $100 million gaming fund and a positive outlook when many others are downsizing and laying-off staff;
In response to an article on more layoffs at Ethereum developer solutions organization, ConsenSys, Sun added;
"Everyone in @ConsenSys and @ethereum please send your resume to [email protected] and embrace your new opportunity!  You are mostly welcome to join our fast-growing and well-funded #TRON family."
Tron seems to have the right formula at the moment with developments and partnerships coming thick and fast. A rapidly expanding team and 'buidl' outlook is the key to surviving the bear market and today's price pump has been evidence of that success.
Recent data from Tronscan also shows records being broken for transaction volume, dApp usage, and address growth. While Ethereum has over 50 million addresses compared to Tron's almost one million a very small fraction of these ETH addresses are actually active.
Tron is currently tenth in the market cap charts with $1.4 billion. It has surpassed Cardano which has been one of the worst performing cryptos this year, and is eyeing Litecoin in ninth spot with $1.8 billion market cap. More days like this with good gains when the rest are bleeding will be very good news for TRX.
Source: Read Full Article