Bitcoin (BTC) struggles to break past $10,500 as the price has faced a strong rejection at the 38.2% fib retracement level. Meanwhile, the Fear and Greed Index has declined to 20 from 31. The price has topped out as can be seen on the 1H chart for BTC/USD and it is only a matter of time before we see it decline from current levels. That being said, we cannot discount a move past the 38.2% once again but even if that happens there is another strong resistance at $10,642. In other words, it is not going to be easy for Bitcoin (BTC) to rally from here. The most likely scenario is that the price will form towards the bottom of the descending triangle and form a double bottom in the near future. There is a series of resistance levels even above the 38.2% fib retracement level but there is only a minor support at $10,252.
If Bitcoin (BTC) ends up breaking this support, it will fall quickly towards $9,483 but if it breaks above $10,500, it will still have to struggle with a number of strong resistance levels before it can reach the top of the descending triangle. We are clearly in a bearish setup on BTC/USD and unless the 38.2% fib retracement level is breached, we have no reason to change our bearish bias. The price is now in a good position to decline and form a double bottom. This would then pave the way for a rally to the upside to test the top of the descending triangle. However, we need to realize that the price does not have to test the top of the descending triangle again.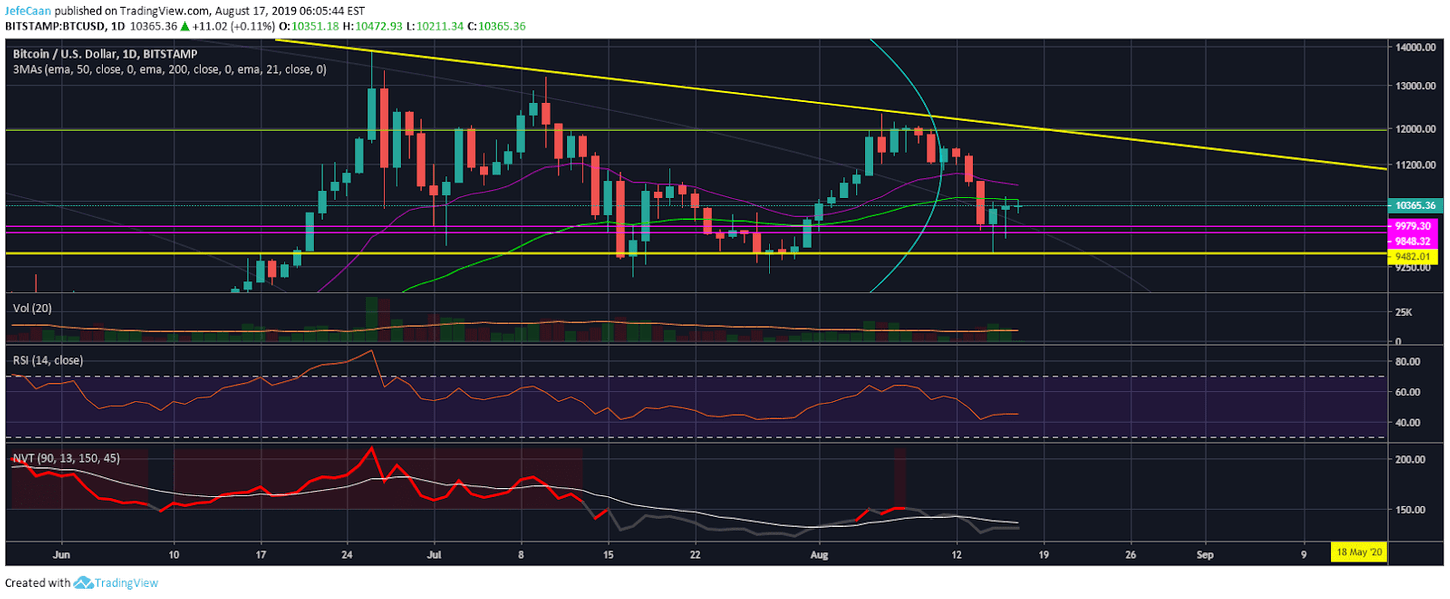 It would be unreasonable to enter a trading expecting the price to do that because we are in a bearish setup and we are looking at a break below this descending triangle which could happen any time without the price having to rally to the top of the descending triangle or breaking past $11,000. The last three daily candles on the BTC/USD chart show us that the price has had a hard time breaking past the 50 day EMA. It has tested the 50 day EMA but it has failed to close above it.
If the price closes below it again, we would expect it to fall below $10,000 again and eventually towards the $9,483 mark to form a double bottom. NVT indicator on the daily chart flashed a sell signal earlier this month and the bearish setup still remains valid. Despite the possibility of a short term relief rally to the upside, Bitcoin (BTC) remains at risk of a brutal downtrend. The next big move month in Bitcoin (BTC) is likely to happen in these next 2-3 months. After that it is more likely to be a slow bleed decline towards Bitcoin (BTC)'s true bottom between $1,200 and $1,800. If circumstances are different at the time, we will update our targets accordingly but so far it is reasonable to expect Bitcoin (BTC) to bottom in that range around June of 2020.
You can share this post!
Source: Read Full Article