The stock of Blue Dart Express slipped by 15 per cent after its 2023-24 (FY24) April-June quarter (first quarter, or Q1) results in July, falling to Rs 6,201 per share before making a modest recovery in September.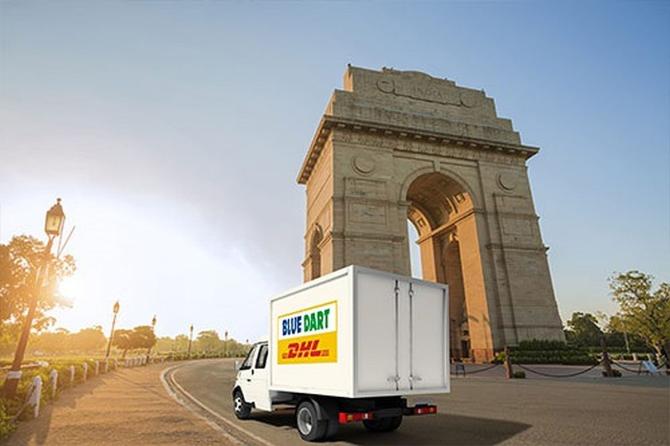 Brokerages lowered their earnings estimates following muted results in Q1FY24.
While analysts remain optimistic about the stock's medium-term prospects, they highlight near-term concerns stemming from lower realisations due to changes in the product mix and margin pressures resulting from new plane additions.
Some of these concerns were evident in the performance of the June quarter.
While volume (shipments) growth remained steady at 9 per cent in Q1FY24 and improved by 2.6 per cent in tonnage terms, revenues dipped by 4 per cent compared to the year-ago quarter due to lower realisations.
The metric declined by 7 per cent due to changes in the product mix and a higher share of the surface business.
What has weighed on the stock price over the past few quarters is the lower-than-expected operating profit margins.
June quarter margins were down by 550 basis points year-on-year to 9.2 per cent, marking the lowest level in eight quarters.
"In recent times, Blue Dart's margins were impacted — first by adverse divergence between Brent crude oil and aviation turbine fuel (ATF) prices, and then by lower aircraft utilisation of the new aircraft," said research analysts Alok P Deshpande and Aadil Khan of Nuvama Research.
The logistics company added two new aircraft (Boeing 737-800) to its fleet towards the end of the June quarter.
With the full utilisation of the fleet and the narrowing of the Brent-ATF price gap, the company expects its profit before tax profitability levels to improve and return to pre-pandemic levels of 8-10 per cent, whereas it stood at 6.5 per cent in Q1FY24.
In addition to reducing the disparity between ATF and Brent crude oil prices and improving aircraft utilisation, research analysts Alok Deora and Saurabh Dugar of Motilal Oswal Research expect margins to improve in the future due to higher volumes for existing aircraft, driven by heightened demand during festival periods.
While margins are a key trigger, what keeps Nuvama Research positive on the company is its strong free cash flow and a return on capital employed of over 40 per cent.
Furthermore, valuations have also declined to 32x its 2024-25 (FY25) earnings estimates.
The brokerage has set a target price of Rs 8,871 per share.
On the operational front, the market will monitor the growth metrics of the air express segment, where Blue Dart holds a 60 per cent market share, and more importantly, that of the surface express segment.
The former accounts for 70 per cent of revenues, while the latter contributes the rest.
The surface express segment is expected to register growth rates twice as high as the air express segment, which will support overall volumes.
Motilal Oswal Research anticipates the company will achieve a volume growth of 13 per cent over 2022-23 (FY23) through FY25.
This is on the back of increased demand during the upcoming festival season, improved utilisation of new aircraft, and expansion of the branch network.
Operating profit margins are expected to rise to 13 per cent in FY25 (compared to 12.2 per cent in FY23 and 9.2 per cent in Q1FY24) due to improved capacity utilisation and a reduced Brent-ATF disparity.
The brokerage maintains a 'buy' rating on the stock with a target price of Rs 7,840 per share.
Disclaimer: This article is meant for information purposes only. This article and information do not constitute a distribution, an endorsement, an investment advice, an offer to buy or sell or the solicitation of an offer to buy or sell any securities/schemes or any other financial products/investment products mentioned in this article to influence the opinion or behaviour of the investors/recipients.
Any use of the information/any investment and investment related decisions of the investors/recipients are at their sole discretion and risk. Any advice herein is made on a general basis and does not take into account the specific investment objectives of the specific person or group of persons. Opinions expressed herein are subject to change without notice.
Source: Read Full Article