Summary
The US Senate is sitting to hear Donald Trump's second impeachment trial
Senators are being asked to convict the former president of inciting insurrection via his comments and tweets prior to a violent mob of his supporters storming the Capitol on January 6
Six Republican senators combined with 50 Democrats on Tuesday, local time, to pass a vote ruling that the trial was constitutional and could go ahead
Trump is expected to be acquitted because conviction requires two-thirds of senators to vote in favour and the Senate is made up of 50 Democrats and 50 Republicans
Trump is reportedly fuming at the performance so far of his legal team, which was hastily formed at the start of this month after few lawyers agreed to represent him
'No innocent bystander': Impeachment hearing gets underway
House Impeachment Manager Jamie Raskin is presenting the case against Donald Trump.
"The evidence will be for you to see and hear and digest, the evidence will show you that ex-President Trump was no innocent bystander," he begins.
"The evidence will show that the clearly incited the January 6 insurrection.
"It will show that Donald Trump surrender his role as Commander-in-Chief and became the inciter-in-chief of a dangerous insurrection," Raskin told the jurors.
'Jury includes his co-conspirators': Clinton claims
Very few expect the US Senate to convict Donald Trump because that would require a two-thirds majority and mean around 17 Republicans would need to vote to convict.
Donald Trump stands behind Hillary Clinton during a 2016 debate.Credit:AP
This looks incredibly unlikely, partly because Republican senators won't want to upset Trump voters ahead of their own re-elections.
Hillary Clinton, who lost to Trump in the 2016 presidential election, has weighed in ahead of the hearing, saying that if Trump is acquitted, it will only be because the jury includes the former president's "co-conspirators."
One of those Clinton accuses is one-time Trump critic Republican senator Marco Rubio, who voted against allowing the impeachment to go ahead.
He says he does not back the impeachment because it should be left to the criminal courts, not Congress.
Trump's defence in the spotlight
In the spotlight today will be the performance of Donald Trump's legal team, amid reports the former president was "fuming" at their performance on Tuesday and their failure to stop the proceedings.
CNN reported that Trump was "almost screaming" at his television as his lawyers mounted their defence.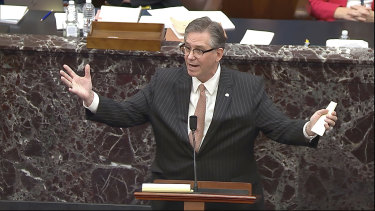 Bruce Castor delivered a rambling, almost somnambulant defence of the former president for nearly an hour. Credit:AP
Bruce Castor is leading Trump's defence in the Senate. He is a former Pennsylvania district attorney who, in 2005, refused to prosecute Bill Crosby for sexual assault.
He and the other lawyer representing Trump, David Schoen, do not have any high-level constitutional law experience and it showed.
Keep in mind the pair were only hired at the start of the month, after Trump's previous legal team collapsed.
Castor's opening address to the Senate on Wednesday (AEDT) was rambling, incoherent and cringe-worthy, writes our Washington correspondent Matthew Knott.
Read more: Incoherent: Trump's team begins impeachment trial with inept performance
The BBC called Castor's address "bewildering."
Explainer: How Trump's second impeachment trial will work
If you're a bit confused about how the process of Trump's impeachment trial works, we have a handy explainer that sets out how the proceedings will unfold.
Read more: Here's how Trump's second impeachment trial will unfold
Day two of Trump impeachment hearing set to begin
Hello and welcome to our live coverage of Donald Trump's impeachment trial.
Day two of the hearing kicks off at noon local time – that's 4am AEDT – after the Senate voted on Tuesday, local time, to allow the trial to go ahead.
Six Republican senators combined with 50 Democrats in the vote on the constitutional legality of the trial. The outcome was 56-44, meaning Trump's second impeachment trial will now proceed.
Senators will need to decide whether to convict Trump of inciting insurrection after a violent mob took over the US Capitol on January 6 to try and stop the certification of Joe Biden's election victory.
Our Washington correspondent Matthew Knott has this analysis on how day one unfolded.
Most Viewed in World
Source: Read Full Article