35 years ago, Victorian RSL President Bruce Ruxton almost came to blows with delegates from Melbourne's African Community Centre following his comments on Archbishop Desmond Tutu.
First published in The Sydney Morning Herald on January 8, 1987.
The Victorian president of the Returned Services League, Mr Bruce Ruxton, yesterday clashed with two Africans he described as terrorists, and ordered them out of his office.
Mr Ruxton, who had earlier accused Nobel Peace Prize winner Archbishop Desmond Tutu of coming to Australia to "breathe hatred" and of being "a witch doctor dressed up its Archbishop's robes", was confronted by two representatives from Melbourne's African Community Centre and asked to explain his comments.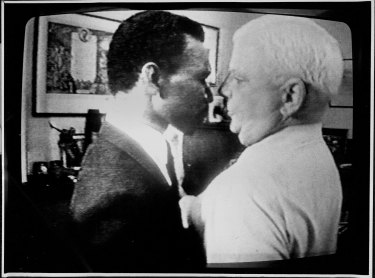 "Don't push me, man" … Mr Ruxton and one of the delegates clash.Credit:ABC
Journalists and cameramen watched as Mr Ruxton pushed Samuel Anyoagu and Eric Adjei out of his office.
Their ejection followed a 20-minute argument in which Mr Ruxton said both men were terrorists and supporters of the African National Congress.
When one of the men attempted to challenge a statement by Mr Ruxton, the Victorian RSL president told him roughly: "Don't tell me what I said or what I didn't say. Never, talk, over me."
A moment later he demanded: "Who taught you to talk?"
As the confrontation continued, Mr Ruxton asked: "What are your links with the African National Congress?" He added: "Are you a refugee or an migrant?"
After an arguement broke out over Mr Ruxton's claim that black South Africans should not be allowed into Australia because they did not assimilate as well as whites, and that the ANC was a Soviet-backed organisation, Mr Ruxton told the two they were talking "garbage" and demanded they "move to the door" or he would call the police.
He shouted, "get out of my office". When the two men did not move, Mr Ruxton approached them.
"Don't push me, man," said one as Mr Ruxton placed his hands against him.
But Mr Ruxton continued to push, and gradually the pair retreated.
Mr Ruxton makes the front page the following day.
Mr Ruxton was called a "demented fool" and a "bigot" during the row.
Mr Ruxton had criticised Archbishop Tutu and accused him of encouraging black servants in South Africa to poison white children.
On SBS-TV's Nine O'Clock program last night, Archbishop Tutu said Mr Ruxton's opinion could not be treated seriously.
"He is quite free to hold that particular opinion and only those who belong to his ilk will belive what was said. He probably would be happy to belong to the Ku Klux Klan."
The national RSL President, Sir William Keys, yesterday sought to distance himself from Mr Ruxton's statements.
He said RSL policy was that immigration should be open to all who could show they could assimilate
into society regardless of religion, race and colour.
The Victorian Premier, Mr Cain, said he regretted Mr Ruxton's comments.
"I think Archbishop Tutu should realise that if anyone takes Mr Ruxton's comments seriously it will
be the first time in a long time," he said.
The Victorian Minister for Ethnic Affairs, Mr Spyker, described Mr Ruxton's comments as "outrageous" and "bad taste". He said Mr Ruxton would make Victoria an "international laughing stock" if his comments were reported overseas and misinterpreted as being representative.
Mr Ruxton remained President of the Victorian RSL until June 2002. In that time and beyond, he remained in the headlines for various reasons, among them, his opposition to the Japanese-funded Multifunction Polis in South Australia, opposition to support for an Australian republic, Asian immigration, Homosexuals in the armed forces and the lyrical content of the rock band TISM.
Despite this, he released a hip-hop record, Ruxton Rap, in 1992.
Most Viewed in National
From our partners
Source: Read Full Article