Summary
Donald Trump's lawyers mounted their defence in the former president's impeachment trial in the US Senate in just three hours.
Senators have been asked to convict Trump of inciting insurrection via his comments and tweets prior to a violent mob of his supporters storming the Capitol on January 6.
Trump's team argued that the impeachment trial is unconstitutional and that the former president's speech on January 6 is protected by the First Amendment.
Trump is expected to be acquitted because conviction requires two-thirds of senators to vote in favour, and the Senate is made up of 50 Democrats and 50 Republicans.
Trump could be acquitted as early as Saturday, local time, making it the fastest impeachment trial in history.
Senate adjourns, with a decision possible tomorrow
And that's a wrap for day four of the Trump impeachment trial.
I think it's fair to say that despite both Republican and Democrat senators getting to grill lawyers on both sides, no-one landed a killer blow or raised a question serious enough to significantly alter the likely outcome.
You can read US correspondent Matthew Knott's news story about the day's proceedings here.
Join Latika Bourke early tomorrow morning for the final session and possibly the vote, which is all but expected to acquit the former president.
See you then.
What in the World
A note direct from our foreign correspondents about what's making headlines around the world. Sign up for our weekly newsletter here. 
Rare moment of unity as police hero Eugene Goodman gets standing ovation
A pause in partisan politics as both sides come together to award a congressional gold medal to US Capitol Officer Eugene Goodman.
US Capitol police officer Eugene Goodman.Credit:AP
Officer Goodman has been singled out for his efforts to save politicians during the January 6 riots.
He warned Utah Republican Senator Mitt Romney that the mob was headed his way. Romney turned and dashed in the other direction.
"I did not know that was Officer Goodman," Romney told reporters after seeing it. "I look forward to thanking him when I next see him."
Goodman also directed the mob away from the Senate Chamber and towards other officers.
Senators on both sides rose to their feet to back the awarding of the medal to Officer Goodman.
Can prosecutors get their case across the line?
As the questions get batted across the aisles, it's worthwhile asking have the Democrats done enough to convince legislators to convict Donald Trump.
In our latest podcast, Please Explain Daily, Tory Maguire is joined by US Correspondent Matthew Knott to talk through the trial, Trump's defence tactics and the likelihood of the Senate convicting him.
Our supporters power our newsrooms and are critical for the sustainability of news coverage.
Becoming a subscriber also gets you exclusive behind-the-scenes content and invitations to special events. Click on the links to subscribe to The Sydney Morning Herald or The Age.
Trump lawyer says conviction would mean a 'slippery slope'
Good morning to you all. Lawyers on both sides are slugging it out with claim and counter-claim in response to questions from the floor.
Michael van der Veen, representing Donald Trump, is getting heated in response to some questions.Credit:AP
Trump's lawyer Michael van der Veen has just said that if Trump is convicted, it would set a precedent that would widen who could be impeached in future to Secretaries of State and other politicians.
"This is a slippery slope we do not want to go down," an exasperated Van der Veen said.
Handing over
I'm handing over to Liam Phelan who will continue our rolling coverage of this question and answer sessions in Donald Trump's impeachment trial.
I'll be back tomorrow for the final session and possibly the vote, which is all but expected to acquit the former president.
Thanks for your company.
'Bring your client up here:' Democrats challenge Trump's team
House impeachment manager Jamie Raskin is becoming more cutting.
He's responded to Trump lawyer Michael van der Veen's earlier complaint that this is one of the worst days he's had in Washington by saying he should have been here on January 6.
He's also responded to the Trump team's accusations that House managers have failed to set out what the former president knew and when on the day of January 6 by saying the matter could be easily cleared up if Trump were to testify – something he is not planning to do.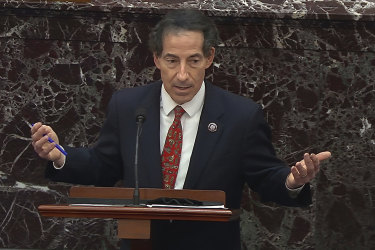 House impeachment manager Jamie Raskin.Credit:Senate Television
"Rather than yelling at us and screaming about how we didn't have time to get all of the facts about what your client did, bring your client up here and have him testify under oath," Raskin said.
Trump lawyers deny 'premise of facts'
Trump's lawyer is being directly challenged about his earlier denial that the president did not know that Mike Pence was in danger when he tweeted criticism of the vice-president.
Interestingly, the question comes from Republican Bill Cassidy, who we discussed in our previous post.
As mentioned earlier, Republican Senator Tommy Turberville told reporters on the record that he'd spoken to Trump and told him that Pence had been ushered out of the Senate chamber, just minutes before Trump went on to tweet further criticisms of Pence.
Impeachment managers have linked Trump's tweets to the chants of "hang Mike Pence" and the erection of gallows by rioters who overtook the Capitol on January 6.
Michael van der Veen, a lawyer for Trump described Turberville's comments as "hearsay".
He again denied Trump knew Pence was in danger, saying: "Directly no."
"I dispute the premise of your facts," Van der Veen said. "I have a problem with the facts in the question because I have no idea."
The document that reveals the hand of one Republican
Senator Bill Cassidy, from Louisiana, had been suggesting he could vote to convict Donald Trump.
However, the Republican senator has just been seen holding a document that suggests he will align with the majority of his GOP colleagues and acquit Trump.
The document says: "The events of January 6 are a stain on our country. President Trump and many others certainly contributed to the environment. The former president did engage in excessive and unnecessary rhetoric before and after the election."
"However, the House Managers did not connect the dots to show President Trump knew that the attack on the Capitol was going to be violent and result in the loss of life."
Senator Bill Cassidy holding a document suggesting he is preparing to vote to acquit Donald Trump.Credit:AP
Lawyer's outrage after Bernie Sanders asks 'who won the election?'
Republican Senator Kevin Cramer just asked Trump's lawyers:
"You accuse the President of tolerating anti-Semitism, but has there ever been a more pro-Israel president?"
Trump's lawyer Michael Van der Veen responded: "No, but it's apparent that nobody listened to what I said earlier."
"This is about the most miserable DC experience I've had," he lamented.
Yeah, we're not sure what that's all about either.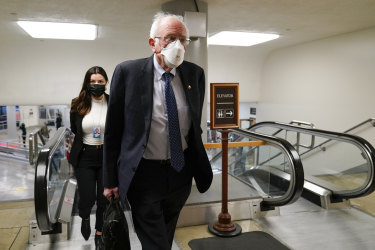 Senator Bernie Sanders.Credit:AP
But a better question has just been asked by Bernie Sanders who asked both sides: "In your judgment, did Trump actually win the election?"
Van der Veen appears outraged by the question and says: "In my judgment? Who asked that? My judgment is irrelevant."
The Democrats have made Trump's false claims about the election being rigged central to their impeachment case, arguing that he convinced his supporters that they had been denied their vote and should fight the outcome on January 6.
Trump's lawyers claim no knowledge of Pence being in danger
Senator Mitt Romney managed to ask a question relating to former vice-president Mike Pence.
"When President Trump sent the disparaging tweet at 2.24pm regarding Vice-President Pence, was he aware that the Vice-President had been removed from the Senate by the Secret Service for his safety?" Romney asked both sides.
Trump's lawyers told jurors: "At no point was the president informed that the vice-president was in danger."
But this is wrong, according to Alabama Senator Tommy Tuberville – a Republican – who has said he told Trump that Pence was in danger minutes before Trump sent the tweet.
Pence has been an intense focus during this hearing, with Democrats showing Republicans never-before-seen security footage showing their vice-president being hurriedly evacuated.
Outside, Trump's supporters had erected a gallows and were chanting "hang Mike Pence".
Trump fell out with Pence because the vice-president refused to breach his constitutional duties in certifying Joe Biden's election victory.
You can watch back some of that footage below.
Most Viewed in World
Source: Read Full Article