In this article
Israel's election do-over looked set to produce a dramatic deadlock between legally embattled Prime Minister Benjamin Netanyahu and his political opponents, with no clear sign who will form the country's next government.
The lack of a decisive victory would be a stunning setback for Israel's longest-serving leader, who gambled on a revote to strengthen his political hand — and possibly keep himself out of jail — after a disappointing result in April. It would also thrust Israel into further political turmoil and drag out policy paralysis at a time when diplomatic and regional security challenges are mounting.
Netanyahu's nationalist Likud and former military chief Benny Gantz's centrist Blue and White are running neck and neck, the exit polls indicated. But each would need to bring in governing partners, and neither has the support of 61 of parliament's 120 lawmakers, the polls showed. The political horsetrading will be hot and heavy in the coming days as Netanyahu, who is battling corruption charges, and Gantz each try to line up the most support. There's also pressure to yoke their parties in a national unity government, a move that might require Netanyahu to step aside — or be forced out.
While the exit surveys suggest Netanyahu, popularly known as Bibi, may lose his grip on power, it's too early to eulogize him. Netanyahu is known as "the magician" for his deft political maneuvering, and he's likely to try to peel off some backing from the opposing center-left camp.
"The results here are less good for him than in April; and in April he didn't make a government," Simon Davies, a pollster and political consultant for Number 10 Strategies, said of Netanyahu. "Whichever way you look at it — if the exit polls are right — Bibi is not in a great position. Bibi is a consummate politician, though, and you'd never put it past him to get out of any situation."
By 2:22 a.m., only 5% of the votes had been counted. After a near-final tally is released on Thursday, President Reuven Rivlin will consult with the various parties to see who they recommend he tap to cobble together the next government.
The exit polls position former Defense Minister Avigdor Liberman, an on-again, off-again Netanyahu ally, to become this election's kingmaker. Liberman's objection to military draft exemptions for ultra-Orthodox Jewish men led to the collapse of coalition talks after the April 9 election, propelling Netanyahu to engineer a revote rather than let a rival try to put together a government.
In other worrisome news for Netanyahu, the Joint List of Arab parties is poised to become parliament's third-largest faction, increasing its representation and eating into the bloc allied with the prime minister, the exit polls showed. It hasn't ruled out recommending to Rivlin that Gantz form the government, a Joint List spokesman said. Throughout Israel's 71-year history, Arab parties have never sat in government, though Arab lawmakers have served in Knesset on behalf of Zionist parties.
Gamble Backfired
A defiant Netanyahu told cheering supporters at Likud headquarters in Tel Aviv that he would enter into negotiations with prospective coalition partners "to form a strong Zionist government" and block the formation of a coalition that would rely on the support of the joint list, which represents Arabs who constitute about 20% of Israel's population. The crowd chanted, "Bibi, king of Israel," and, "We don't want unity!"
Political newcomer Gantz ran a clean-hands campaign that while lackluster, resonated with voters desperate for an alternative to Netanyahu, who won four successive terms since 2009. He was unseated after his first term in 1999 by another former military chief, Ehud Barak.
Gantz stopped short of declaring victory, after having prematurely done so in April, but told a cheering crowd that "tonight, no matter how it evolves, begins the journey to repair Israeli society."
"Polarization and divisions are behind us, and unity and reconciliation are before us," he said, vowing to work to set up a national unity government. He's repeatedly said he would not team up with Netanyahu while he's tainted by allegations of corruption.
With his political survival at stake, Netanyahu launched a nasty campaign in which he appealed to his nationalist base by making pledges dear to their hearts, such as vowing to annex West Bank territory claimed by Palestinians, and painting the liberal left and Israeli Arab leaders as bogeymen. That continued on voting day, when he convened what was billed as an emergency party meeting amid reports of high turnout in Arab and liberal areas of the country.
"Voters of the right, have you lost your minds?" Netanyahu said on Twitter. "Go out now and vote Likud in order to stop a left-wing government with the Arab parties." Ayman Odeh, the head of the Joint List, said Netanyahu's anti-Arab message helped to get out the Arab vote, which had been thin in the April election.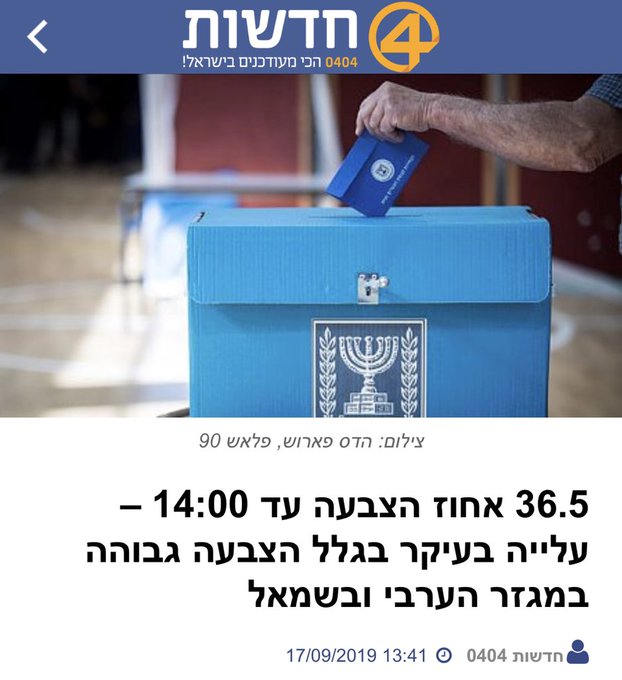 The prime minister entered the race badly weakened by what he says are baseless graft allegations cooked up by left-wing opponents. Before coalition talks collapsed in May, he was promoting new legislation that would grant him immunity from prosecution as long as he's in office. If Netanyahu loses the election, that option will become a dead letter and he'll become more legally vulnerable.
In early October, the prime minister's scheduled to plead his case before Attorney General Avihai Mandelblit, who will then decide whether to go ahead with planned bribery and fraud charges. Netanyahu is accused of accepting about $200,000 in gifts from wealthy friends and trying to win sympathetic press coverage by shaping rules to benefit media moguls.
The political uncertainty dovetails with renewed confrontations with Iran and its proxies in Syria, Lebanon and the Hamas-run Gaza Strip, and serious questions over the fate of the Trump administration's Middle East peace plan. Israel's political paralysis has already held up the presentation of the plan, which is facing an uphill struggle five years after Israeli-Palestinian peace talks stalled.
U.S. President Donald Trump has been one of Netanyahu's most fervent allies. In the run-up to the April election, he presented Netanyahu with political gifts that included moving the U.S. embassy to Jerusalem, withholding funds from the Palestinians, recognizing Jerusalem as Israel's capital and declaring that Israel had sovereignty over a section of the war-won Golan Heights. That still wasn't enough to help Netanyahu over the top this time.
Exit polls show a surge in support for Liberman, whose tough stand against sweeping military draft exemptions for ultra-Orthodox Jewish men resonated among voters on both left and right in a country where conscription is compulsory and many resent the concession. After the exit polls were revealed on Tuesday, he repeated his call for a national unity government that would include his party, Blue and White and Likud, while freezing out the ultra-Orthodox.
Blue and White has said it won't join a coalition with Netanyahu, so such a secular, broad-based coalition plan might not come to pass unless Likud pushes the prime minister out.
"Assuming the numbers are correct, we are witnessing quite a dramatic outcome for a first time after a decade. There is a very high likelihood that Mr. Netanyahu will not serve as prime minister of Israel," said Yohanan Plesner, president of the Israel Democracy Institute research center.
"It looks like Mr. Netanyahu's path to 61 is blocked, while Mr. Gantz has greater options," Plesner said. "We might also see change within the Likud, where a new chairman of the Likud might be able to form a new unity government with Blue and White."
Netanyahu has led Israel for a total of 13 years in which he scored unprecedented diplomatic achievements for his country, including the transfer of the U.S. Embassy to Jerusalem, while seeing prospects for peacemaking with the Palestinians retreat.
He also dismantled much of the socialist legacy of the country's founders, with the broad economy and trade links flourishing even as a large income inequality gap makes it difficult for many to make ends meet.
— With assistance by Yaacov Benmeleh
Source: Read Full Article