On-chain data reveals that whales and new wallets are scooping more Maker (MKR), which seems to be propping the token, fanning demand. As of September, MKR is one of the top-performing tokens, adding roughly 120% in three months from June 2023 lows.
When writing, MKR is changing hands above $1,300 and inching closer to July 2023 highs. Notably, MKR is up 14% in the past week of trading, driving market cap above $1.27 billion and trading volume by 36% on the last day.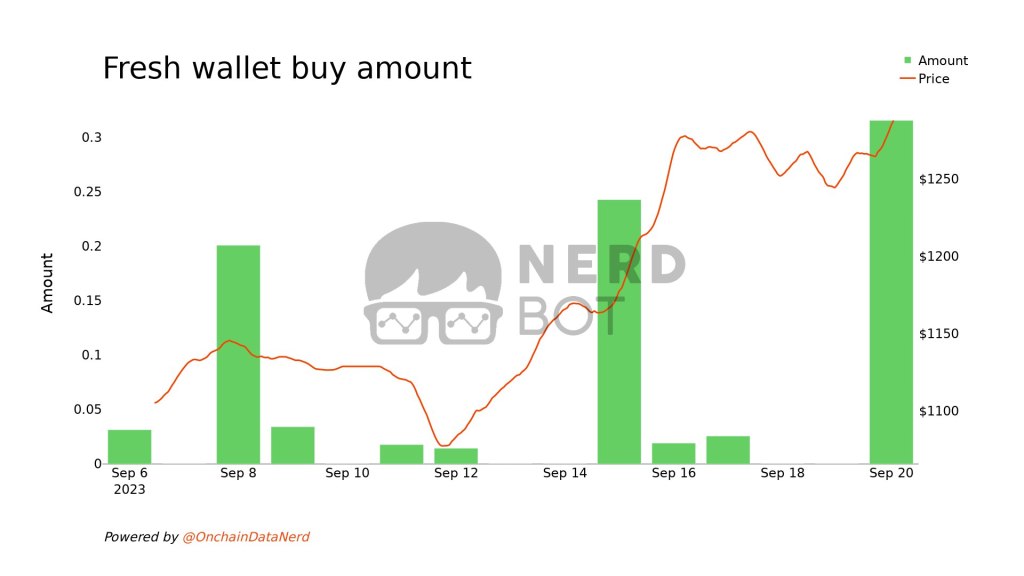 Whales And Fresh Wallets Buying Maker (MKR)

Trackers note that in the last week of trading, a whale, "0xad0", bought 1261 MKR worth $1.62 million at an average price of $1,290. Moreover, looking at the trends, whale and fresh wallet activities have been heightened over the previous week. With more accumulation, the token has been tracking higher in tandem.
Parallel data from Lookonchain confirms this development, especially from early September. Earlier this month, a whale sold $1.13 million of Ethereum and bought an equal amount in MKR on Binance.
This transaction comes a day after another entity moved $12.3 million of MKR from Binance. However, while whales appear to be loading up more MKR, Vitalik Buterin, the co-founder of Ethereum, sold his stash of MKR for ETH on September 2. 
Maker Finance is a decentralized lending and borrowing platform on Ethereum. As of September 20, the protocol had a total value locked (TVL) of over $4.8 billion, according to DeFiLlama. More data shows that the platform held $109.56 million of MKR, its native token, and different stablecoins worth $49.58 million. 

DAI Yield Rising, New Burning Structure Implemented Fueling Bulls
MakerDAO, a decentralized autonomous organization (DAO), manages DAI, an algorithmic stablecoin that passes yield to the holder. Holders of MKR, the native token of Maker, can also vote on proposals.
Following the brief USDC depegging in March 2023, the DAO reduced its reliance on the USDC, a centralized fiat-backed stablecoin. In early August, the community also voted to temporarily increase the DAI Savings Rate (DSR) from 3.19% to 8%, incentivizing users to mint DAI via the Spark Protocol. 
Besides changes to the DSR, MakerDAO also introduced an improved smart burn mechanism where collateralized debt positions (CDPs) to back circulating DAI can be closed freely without causing stablecoin shortages in the market. In this new arrangement, circulating MKR would be bought and burned independent of CDP closure, allowing the protocol to be more flexible in light of market changes.
However, with this, every burning reduced circulating supply, which has supported prices as price action revealed.
Source: Read Full Article