We will be looking at some of the historical prices, developments, and market opinions for VET so that we can issue a VeChain price prediction for August 2020.
VeChain Overview
VeChain is a blockchain platform that was developed to enable easy tracking and management of various products, as they go through the supply chain from producer to end-user. The platform's native crypto is VET.
VET currently holds 19th position based on a market cap of $968,446,774, with a 24-hours trading volume of $153,050,439 worth of VET. There are 55.454.734.800 VET coins in circulation out of a total supply of 86.712.634.466 VET. VeChain is currently priced at $0.017464, with a loss of -3.97% in the last 24 hours.
VeChain Price Prediction: Analysis
The last weeks of June saw VeChain trading between $0.008 and $0.009, with the coin starting July at $0.0088. On the same day, VET escalated to $0,009403 towards the end of the day. The bullish momentum continued in the following days, as the coin surpassed the $0,010 resistance level on June 3rd.
This positive trend continued with a force in the following days, with VET surpassing new resistance levels after another, with the altcoin reaching $0,021758 on July 8th.
But on July 9th, the pullback came, and VET went down to a low of $0,017207, closing slightly above $0.018.
The rest of the week, VET traded between $0.017 and $0.018, with slight brushes to $0.019, but failing to maintain itself at those values.
VET has to maintain itself above the $0.017 key support level in order to start a full recovery. Breaking below the descending trendline resistance would propel the VET/USD pair above $0.02.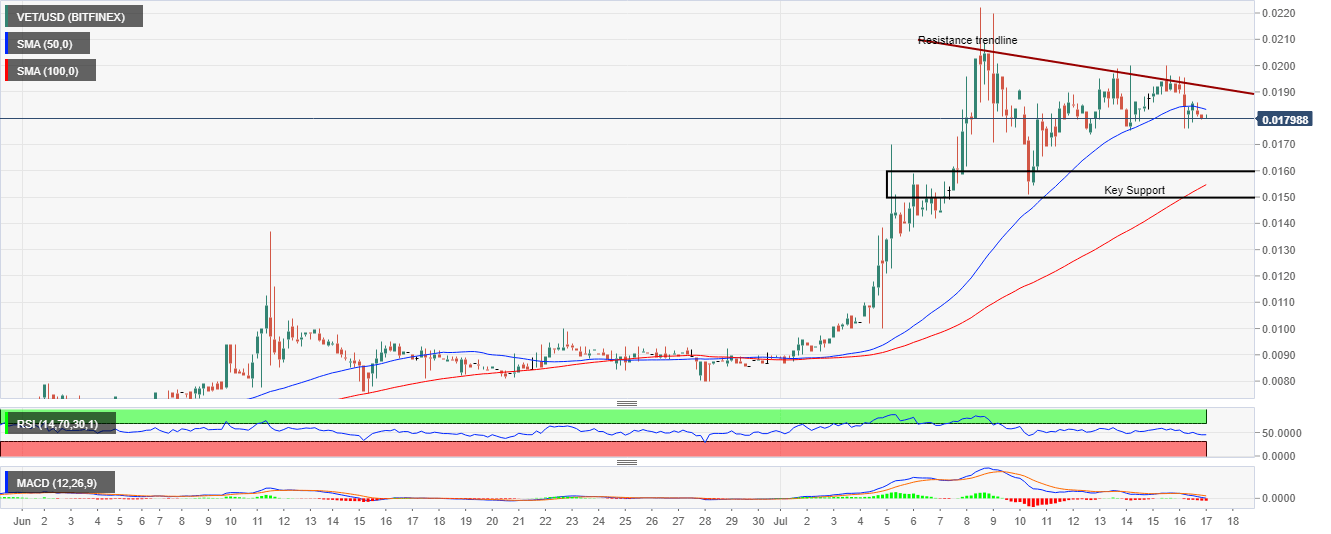 The resistance, pivot, and support levels calculated by WalletInvetsor are:
Resistance Level (R3): 0.02081
Resistance Level (R2): 0.020071
Resistance Level (R1): 0.0190
Pivot Point: 0.0183
Support Level (S1): 0.0173
Support Level (S2): 0.0165
Support Level (S3): 0.0155
Developments
VeChain's and DNV GL's joint project, My Care, which was developed to prevention and monitor coronavirus, has seen increased adoption this month. The VeChainThor Blockchain-based solution has been implemented by Viking Lines, the international hotel group InterContinental and the top steel company, ArcelorMittal.
Color Line, a cruise company, is the latest to start using the My Care™ tool. Color Line AS is the largest cruise line that travels back and forth from Norway. The company also includes passenger and freight transport and is one of the biggest operators in Europe.
All six passenger and cargo ships that operate between Norway and Denmark, Germany, and Sweden, as well as on the related terminals, have successfully gone through the My Care evaluation.
Compliance Officer at Color Line, Anette Aaser-Stene, stated that this proves that "Color Line's ships and terminals are safe when adequate systems are in place for both passengers and staff."
Regarding Color Line's successful verification, Lin Jacobsen Hammer from Norway DNVGL commented:
"Congratulations to Color Line on achieving the My Care – Infection Prevention Ready trust mark for its vessels. Actively building trust in its infection prevention efforts demonstrates Color Line's strong commitment to ensuring adequate and compliant infection risk management measures. Verification by a third party provides assurance that the right measures are in place to keep people safe, providing transparency, and enhancing the trust of passengers and other stakeholders."
VeChain co-founder Sunny Lu stated two weeks ago that My Care had great potential, and adoption would eventually take off:
"As we contend with the new normal due to COVID-19, the demand for trust has never been so important. Blockchain will be one of the driving forces to increase confidence in data integrity, business credibility, and mutual trust in multi-party collaboration. With VeChain ToolChain™, we have great confidence to support DNV GL's digital transformation strategy to develop more digital solutions like My Story™ and My Care to expand and improve their offerings to serve their clients worldwide."
Also, in July, Binance U.S. revealed that it will now support the staking of VeChain's VET token.
"Binance.US will support the distribution of VTHO to TET holders. VTHO will be distributed monthly, but will be calculated based on daily snapshots of each VET user's balance," – stated the company in its announcement.
In order to stake the VET token, users must have more than 1 VET in their wallet. The staking rewards will be distributed monthly, before the 15th of each month.
VeChain Price Prediction: Market Opinion for August 2020
Quite a few crypto sites have launched their own VeChain price prediction, and we will be featuring some of the most applicable ones to observe the market sentiment for VET.
Digitalcoinprice
Digitalcoinprice's VeChain price prediction has once again a very positive price for VET in August, foreseeing that the coin will reach $0.03602750, with a change of 92.99%.
Coinpredictor
Coinpredictor projected that VET will lose 54.2% by the start of August, which would place the coin around $0.00016.
TradingBeasts
The site projected that VET will reach $ 0.0213112 by the beginning of August 2020. The expected maximum price is $0.0266179, and the minimum price is $0.0181002. VeChain is supposed to close the month at a value of $0.0212943, with a change of 14.99%.
Bitverzo
Bitverzo's VeChain price prediction covers all of the days in August, along with their average, minimum, and maximum values.
Cryptoground
Cryptoground estimated that at the start of August, VET will have a price of $0.2393, with a decrease of -77.86%.
Cryptorating
Cryptorating forecasts that VeChain will have a price of $0.031792, with an increase of 75.57% at the start of August.
Gov.capital
Gov.capital predicted that in August, VeChain will have an average price of $0.0177, with a maximum expected price of $0.015045 and a minimum price of $0.020355. Predictions for the rest of the days of the month are also available.
VeChain Price Prediction: Verdict
We have reached the end of our VeChain price prediction. From the charts and analysis, VeChain is not yet out of the woods even though it is slightly above the pivot point, but it does have a chance of appreciating in the near term future.
Featured image: crypto-news-flash.com
Source: Read Full Article