In February this year, Justin Sun's Tron Foundation purchased social media crypto DApp Steemit. Following that, Sun and the Steem leaders were at loggerheads over who would lead the community.
Ultimately, a month later, this resulted in community members hard forking the Steemit protocol to relaunch as "Hive."
Today, Sun made a lengthy response to this fiasco in which he attacks Ethereum co-founder, Vitilik Buterin, as well as the role of the "misleading media" in reporting the story.
Sun then went on to accuse the Hive witnesses of theft of millions in crypto funds, which he promises to get back on behalf of the Steem community.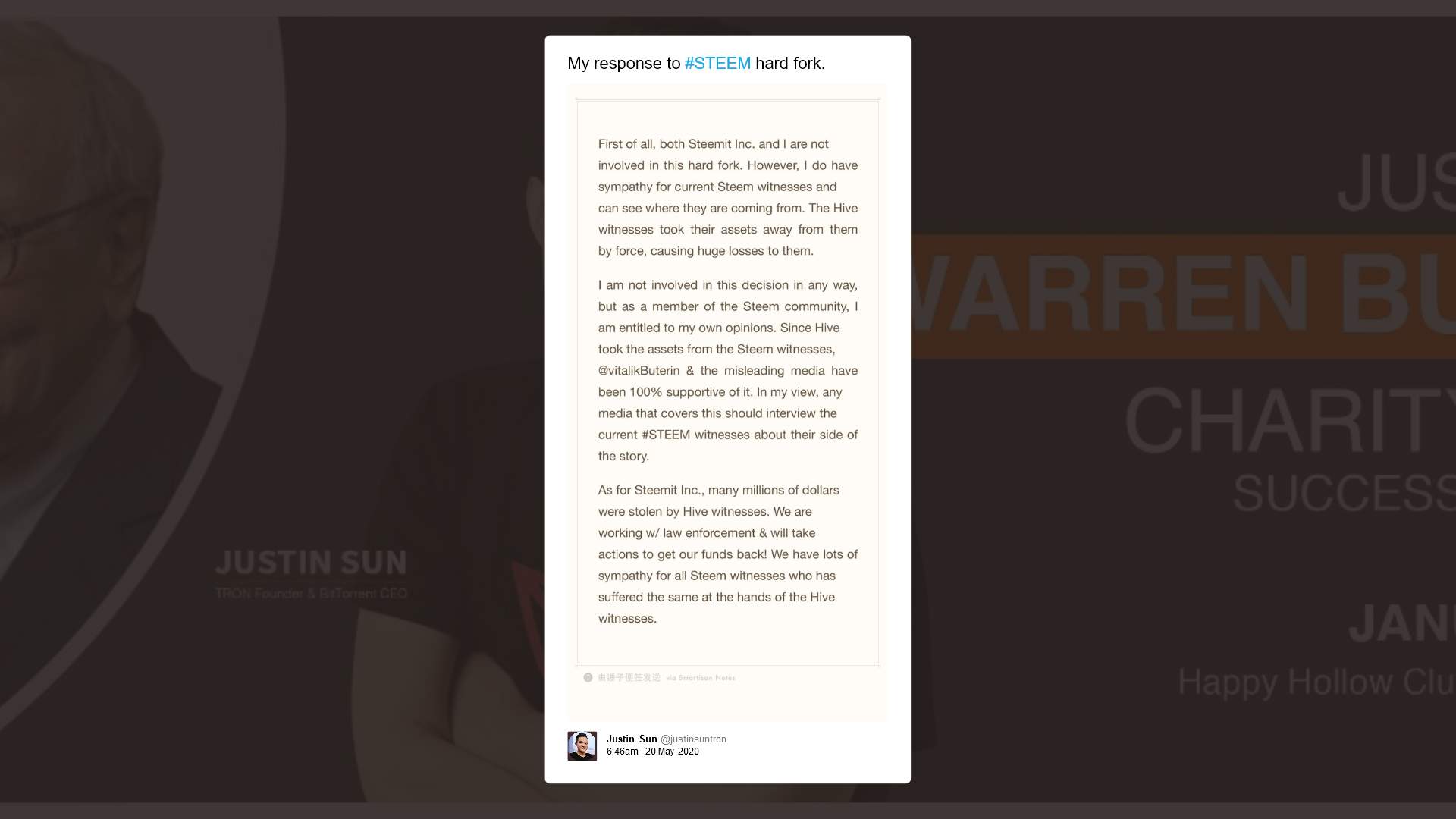 Source: twitter.com
Sun Recruits Major Crypto Exchanges
If ever there was an example of things not working out as expected in crypto, Sun's reported takeover of Steemit is it. The entire saga has been a drawn-out and hostile affair in which some have called out Sun's authoritarian approach.
First, it began with allegations that Sun enlisted the help of major crypto exchanges to vote yes to his new leadership.
Delegated Proof-of-Stake (DPoS) systems, as operated by Steem, function by way of a voting system where stakeholders can vote for delegates that will secure the network on their behalf. The voting power is proportional to the number of coins held by each user.
It follows that Binance, Huobi, and Poloniex staked Steem tokens they controlled in order to vote in favor of Sun.
Changpeng Zhao and Binance Apologise For Their Involvement
Following this, and the resultant outcry from the crypto community, in what can only be described as exploitation of Steem's DPoS protocol, Binance CEO, Changpeng Zhao stated that he mistakenly authorized the move. Expanding on this, he said:
"STEEM thread. I was hoping not to be involved, but alas, doesn't seem to be possible. I did approve the vote from Binance, thinking (wrongly) it was a regular upgrade/fork. For that, I apologize. Guess it is only fair that I get involved until the issue is resolved."
Source: twitter.com
Later, Binance pens a letter to the Steem crypto community in which they apologize for what had happened.
The letter states Binance is a neutral party that has no interest in influencing the governance of other crypto projects. It ends with screen grabs showing the withdrawal of their voting tokens.
"We sincerely apologize for the recent situation involving STEEM, which stemmed from miscommunication about the specifics of the blockchain's upgrade/hard fork. After receiving the feedback from the STEEM community, we have unvoted."
It Just Got Real
Sun's tweet, in which he responds to the Steem hard fork, coincides with news that Steem will hard fork today in order to shut down accounts that criticize Sun's leadership.
According to blockchain programmer, Andrew Chaney, hard fork 23 as it is known, is not available for a review of the code. An unusual move in what is supposed to be an open-source network. What's more, Chaney then goes on to say contacts have informed him that seed nodes are also getting updated.
"Exchanges that are supporting Steem and their private, closed source fork, are directly going against the true meaning of DPoS. There is no chance for users to make an informed voting decision when the code changes remain .."
This will result in the seizure of 23.6 million Steem from dissenting users – which equates to around $5 million in monetary value.
On that note, a Steem Consensus Witness Statement contends hard fork 23 is justified on the grounds of the actions of dissident users since Sun's takeover in February.
The statement claims some users were sending spam transactions, uploading recycled content to interfere with the rewards system, and attacking and doxxing other users.
Samuel Wan is passionate about different cultures and eating good food. He has years of experience working in business and finance — a burgeoning interest in Bitcoin and cryptocurrencies since 2017. UK based.
Source: Read Full Article