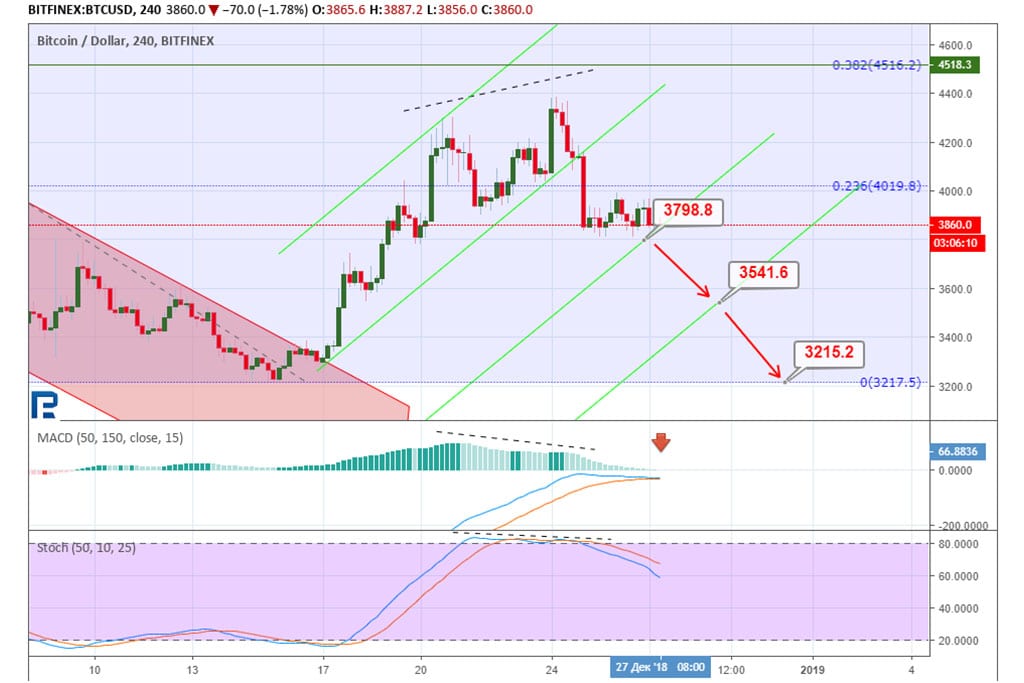 Photo: Roboforex / TradingView
Bitcoin is somewhat losing its value on Thu Dec 27, trading at $3876.80, reports Dmitriy Gurkovskiy, Chief Analyst at RoboForex.
On H4, one can see the crypto failed to reach the 38/20% Fibo extension. Both the MACD and Stochastic signaled a downtrend as they diverged. The price already broke out the ascending channel support and is now testing the projection channel one. In case $3,798.80 is broken out, the price may plunge further to $3,541.60 and 3,215.20. This will be confirmed in case the MACD forms a black cross.
On H1, the BTC approached the target support and then started range trading. There's a short term trend forming, however, so the price may go further down. Once the price hits the lower boundary at $3,817.20, this will mean the rangebound trading is over, and the BTC will be heading towards its target at $3,460.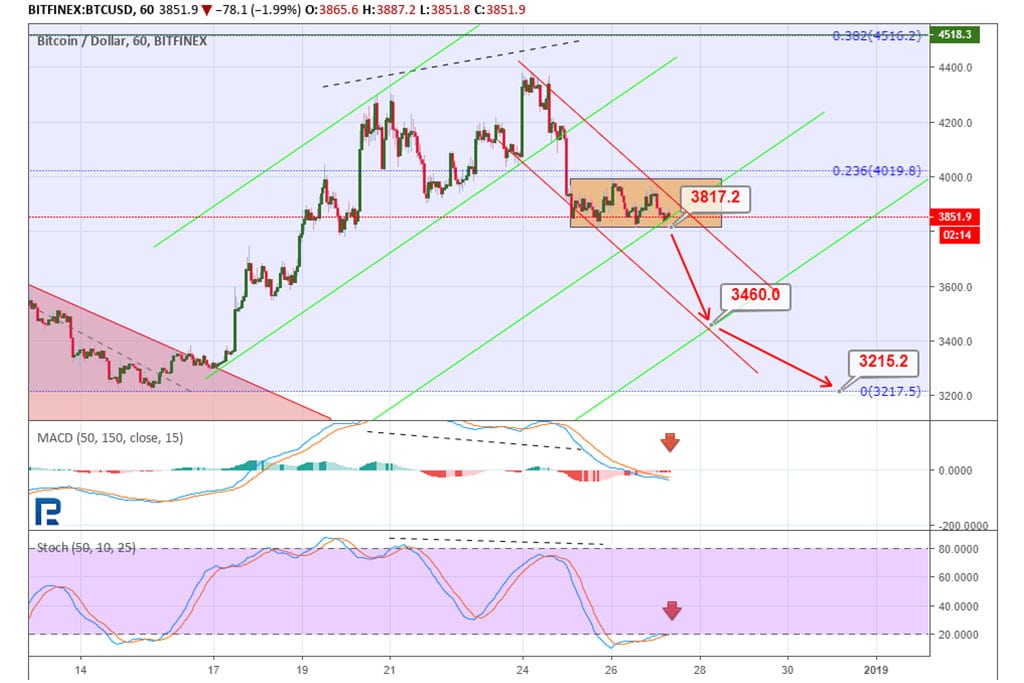 A piece of positive news, meanwhile, is coming from Brazil, where it may be possible to pay  HYPERLINK in supermarkets. Oasis Supermercados in RIo de Janeiro is going to accept BTC, BCH, and LTC. The management say it will be as easy as paying with a credit card; the store will do the conversion itself, the only thing the customer will need to do is scan a QR code.
This way, the consumers may start using cryptos directly, which somewhat solves the issue of the cryptos being weakly linked to the real life. This is not the first time this solution is applied in Brazil. Technica, a construction company, accepts cryptos and even provides crypto customers with a discount, while transport companies, including the subway, accept the BTC.
Meanwhile, in India, they are going to tighten up the crypto control. By February 2019, the Indian government will release a report stating the main points of restricting or complete ban on using the cryptos in the country. The rules may be so strict that using cryptos in India will become barely viable.
However, some officials say the blockchain techs are very promising, which may prevent the government from banning the digital coins completely.
Source: Read Full Article