I like to think there is at least a little bit of a trader in all of us, especially with Bitcoin's recent resurgence above USD 8,000. After all, that's why many of us read CryptoDaily and why the headline of this article may have brought you here in the first place.
I've been dabbling with developing trading strategies in other asset classes (like spot forex and shares) over the past 15 years and have not had too much success (yet) trying to adapt to the 7-day trading week in the cryptocurrency markets. Blockchains don't take weekends or holidays off, but I do because I have other things going on outside of crypto.
Like learning the ukulele! My significant other and I recently visited a Pacific Ocean hideaway and I did nothing but body surf, watch her imbibe fruity libations with little pink umbrellas, and watch very talented Polynesians play the ukulele on moonlit-strewn beaches. I became hooked fast.
Upon returning to the real world I contacted my CryptoDaily colleague, Sally Ho, and asked her for some tips on how to tackle a curiosity: which weekday is optimal for trading cryptocurrencies, and which should I avoid like the plague?
Sally was naturally very accommodating. I have to admit that I learn a lot by reading her columns, and she helped me organize some historical data for a few crypto pairs. Thank you, Sally!
I put together an automated trading strategy that attempted to evaluate profitability for Mondays through Fridays. With Sally's help, I aggregated more than 15 months of historical data that I could apply some trading code to.
My simple automated trading strategy was written to enter a new long position with a Buy Stop at the highest high over the "x" number of last bars. Likewise, the strategy was written to enter a new short position with a Sell Stop at the lowest low over the "x" number of last bars. It's a simple reversal trading strategy I wrote just to see if I could reach any conclusions.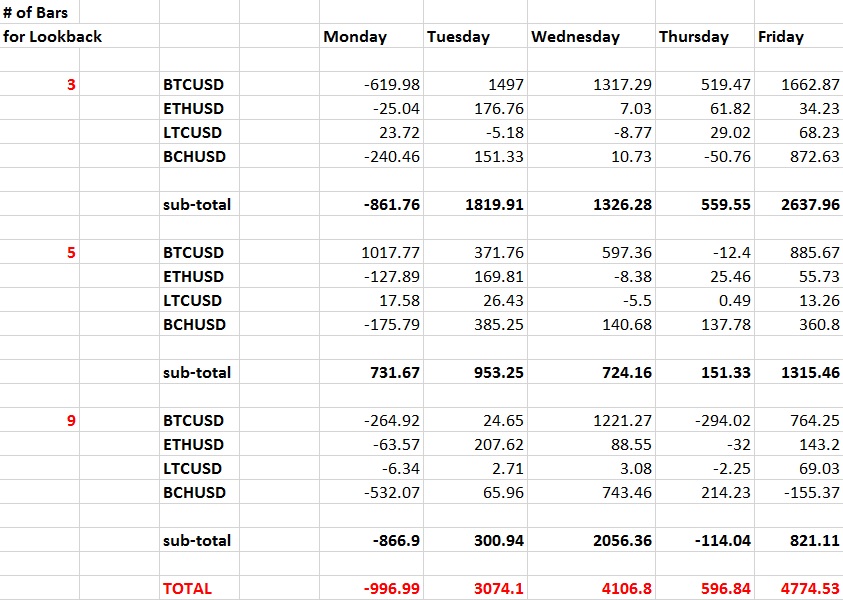 I applied my strategy with 3 different time horizons: looking back 3 bars; looking back 5 bars; and looking back 9 bars. I applied this trading system strategy to the four markets that Sally covers in her technical analysis: Bitcoin/ US dollar (BTC/USD); Ethereum. US dollar (ETH/USD); Litecoin/ US dollar (LTC/USD), and Bitcoin Cash/ US dollar (BCH/USD).
I followed her lead here because they are among the most liquid cryptocurrency pairs in the market, and she has a lot of experience trading them, so she knows from whence she trades.
Here are the results:
Let's start with the bad news. Mondays are not our favourite day of the week for many things in life, and Mondays are not kind to crypto, either. When 3-day lookbacks were applied, Mondays were the worst performer, at -861.76 with BTC/USD representing -619.98 of that total. In contrast, Fridays were the best performer at +2637.96 with BTC/USD's gains at +1662.87. Tuesdays and Wednesdays also had strong showings.
With a 5-day lookback, the results were better on Mondays, up a cumulative 731.67. Fridays ruled the roost, up 1315.46. Tuesdays were strong at +953.25 and Wednesdays were decent at +724.16.
With a 9-day lookback, the results were again crappy for Mondays, down a cumulative -866.90. Results were strongest on Wednesdays at +2056.36 and the next strongest were Fridays coming in at a cumulative +821.11. Tuesdays were again decent at +300.94.
Here's the total tally across all four markets with more than 1 year of historical data:
Mondays: -996.99
Tuesdays: +3074.10
Wednesdays: +4106.80
Thursdays: +596.84
Fridays: +4774.53
Here are some basic conclusions:
Note to self:

Litecoin isn't really worth much of my trading energy in general, and don't trade BTC/USD with 3-day lookbacks on Mondays. Stay in bed with my partner instead.
Source: Read Full Article