The top reason drawing consumers to EVs is lower fuel cost.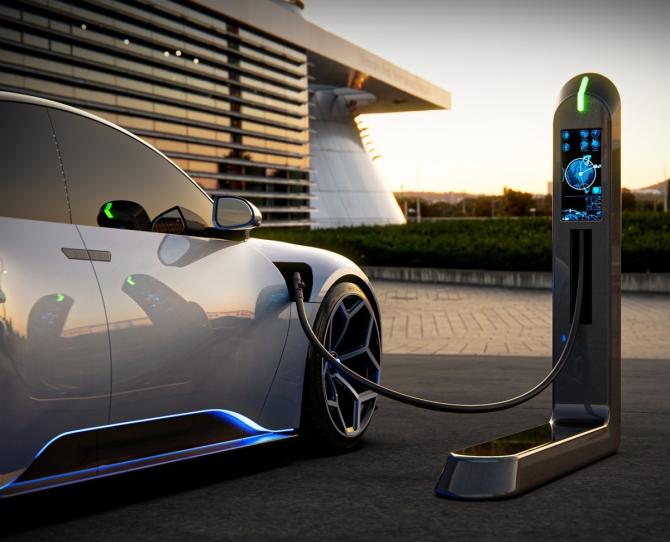 At least 53 per cent of Indian consumers would opt for a gasoline or diesel engine vehicle for their next purchase as opinion slowly turns in favour of electric vehicles (EV), said a report on Tuesday.
Around 20 per cent of Indians are open to buying a hybrid electric vehicle and only 8 per cent will go for an all-battery powered electric vehicle (BEV), said Deloitte's 2023 Global Automotive Consumer Study.
What is encouraging is that "the needle is shifting" towards adopting EV: the last survey found 5 per cent people preferred BEVs and the one conducted in September 2022 found the number had grown to 8 per cent.
There was a dip in preference — from 58 per cent to 53 per cent — for gasoline/diesel engine vehicles from the previous survey year.
The top reason drawing consumers to EVs is lower fuel cost.
A majority of customers planning to buy internal combustion engine (ICE) or electric vehicles expect to pay less than Rs 25 lakh, said the survey.
Most EV intenders plan to charge their vehicle at home by connecting to a regular power grid and/or to an alternate power source.
Those not intending to charge at home cite high installation costs.
Consumers would most prefer a dedicated EV charging station with amenities such as quick beverages, Wi-Fi connectivity, and restrooms.
More than half the respondents said they would wait between 10 and 40 minutes for their vehicle to charge from 'empty' to 80 per cent at a public charging station, challenging conventional wisdom that matching the fossil fuel experience is "table stakes".
The challenge for EV adoption is that nearly two-thirds of consumers are concerned about the residual value of a BEV.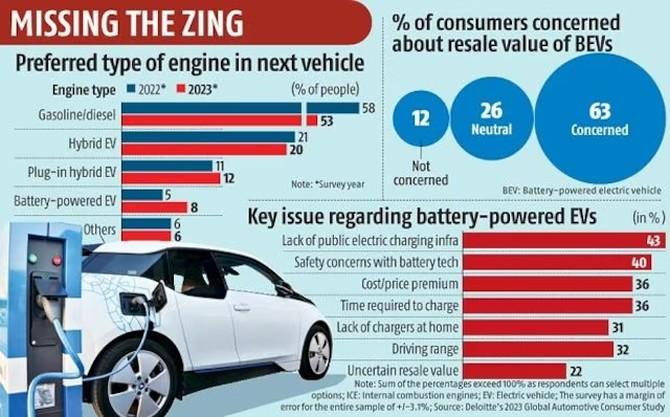 Around two-thirds of the consumers would rethink their decision to purchase an EV if an environmentally sustainable, synthetic combustion fuel was available.
About 76 percent of non-BEV intenders would expect a fully charged BEV to have a driving range between 200 km and 500 km in order to consider one as a viable option for their next vehicle.
When asked what the major hurdles to EV adoption are, consumers point to a lack of charging infrastructure, battery safety technology, and affordability.
Another interesting trend the survey captured was that around 48 per cent of used car owners said they intend to buy another used vehicle for their next purchase, while only 6 per cent of new car owners said so.
From September through December 2022, Deloitte surveyed more than 26,000 consumers to explore opinion regarding a variety of issues for the automotive sector, including consumer interest in EV adoption, brand perception, and technology.
The survey polled a sample of 1,003 consumers in India, 44 per cent of who were aged between 18-34 years, and 82 percent of the total Indian sample lived in urban areas.
Feature Presentation: Rajesh Alva/Rediff.com
Source: Read Full Article