London (CNN Business)If you don't buy your clothes or beauty products online, you'd be forgiven for not knowing what Klarna is — but 1 million people use it each day.
The Swedish startup is one of a new breed of fintech payment companies asking shoppers to "buy now, pay later."
The concept is simple. When customers checkout on sites like ASOS, Gymshark and Topshop, they can pay instantly by card or PayPal, or they can "pay later with Klarna," which allows them to complete the order without paying the vendor. Instead, they pay Klarna up to 30 days after the product has been shipped.
In most cases, customers only have to provide details such as their name, billing address, date of birth, email address and contact number, and within seconds they undergo a "soft credit check" and are approved for the service. Klarna uses machine learning and analytics to risk score the consumer in real time with this very limited information.
Customers can either choose to pay the full amount up to 30 days later, spread the cost of their purchase across equal, interest-free installments for three or four months, or sign up to "Slice it," which splits the cost of bigger purchases into as many as 36 monthly payments, but interest charges can apply.
Exploiting a market opportunity
Buy now, pay later services are not new — but what makes Klarna different from credit card providers and other traditional lenders is that many of its pay later options do not charge the consumer any interest or fees, and you don't have to register or set up an account. Instead, Klarna charges retailers a transaction fee and a percentage of the sale.
In return, Klarna claims it can increase a retailer's number of orders and the average spend. Following its launch with Gymshark this year, the retailer's average order value increased by 33%.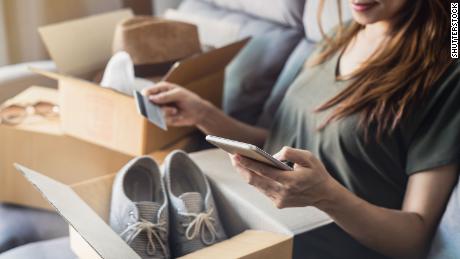 These kinds of services are growing in popularity. Klarna says it has 60 million customers worldwide, and 26 million of them were acquired in 2018. Last week, international fashion label H&M, which has a market value of roughly $28.7 billion, extended its use of Klarna to the UK market. In August, the company was valued at $5.5 billion.
Australian company Afterpay launched its own buy now, pay later offering in Europe in May after serving customers in Australia, New Zealand and the United States. The European offering called Clearpay has more than 5 million users.
Clearpay's users belong to a "millennial demographic buying items in the fashion beauty lifestyle category", and are largely female, Carl Scheible, CEO of Clearpay told CNN Business. Klarna's is similar, with a consumer base "skewed towards females between the ages of 20 and 35."
"The consumer — this younger demographic — they don't have credit cards and they bank with alternative banks like Monzo," Scheible said.
Financial analyst Lisa Ellis says there is clearly an appetite for alternative lenders, especially among young people who carefully manage their cash and prefer to reserve credit cards for major purchases such as vacations.
Try before you buy
Buy now, pay later can appeal for a number of reasons.
"It felt like I didn't have to commit to the actual purchase and it wasn't something that I'd have to worry about straight away," Klarna user Lydia Shing told CNN Business. "I'm more likely to shop if they use Klarna," she added.
"For the customer, we're providing them with the ability to receive the goods and make sure that they're happy with them, the size is a good fit, that the product is as it appears," said Luke Griffiths, general manager for Klarna UK. If a shopper wants to send an item back, they can do so without waiting for returns to be credited to their account.
"Younger generations seem to favor easy to adopt, instant decisions. The application process for a card can be tedious, require paperwork, or may not be able to be completed on a smartphone app," Benjamin Voyer, a behavioral scientist at London School of Economics told CNN Business. "It could be that anything that takes more than a few clicks or an app is enough to deter applicants."
But the rise in "buy now, pay later" is concerning to some, as it could be seen to encourage debt.
"We do have a number of concerns in terms of the way that [these products] are being marketed," said Richard Lane, director of external affairs at debt charity StepChange. "We're not convinced that consumers are confident or aware that they are taking out lines of credit."
Klarna claims that fewer than 1% of customers default on their payments.
Customers that fail to pay using Klarna's "Pay later" option will eventually have their accounts terminated, and a credit bureau is advised about failure to pay, which can affect their credit score. For those who fail to repay using Klarna's "Slice it" service, a debt collection agency could pursue their unpaid bill after a fee — £12 in the United Kingdom — is added to the account.
Source: Read Full Article