'Several businesses like entertainment, hospitality, travel etc would never be the same again.'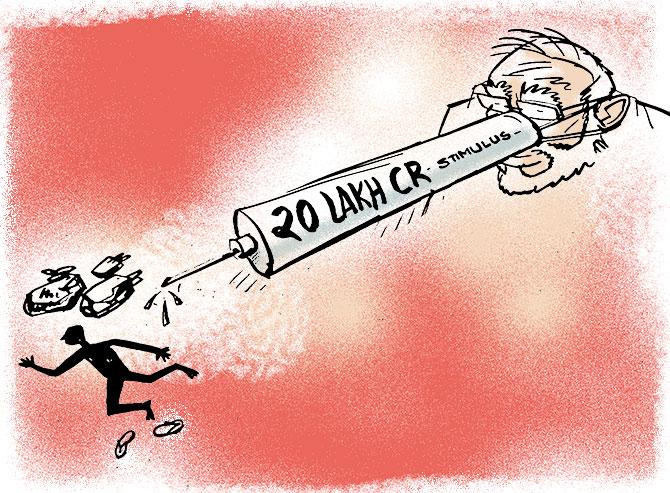 Subhash Garg, former Union finance and economic affairs secretary, tells Aditi Phadnis that economic recovery and state finances face a rocky road ahead, notwithstanding the Rs 20 trillion stimulus plan. The first of a two-part interview:
How seriously will the COVID-19 outbreak impact India's economic growth and public finances?
The lockdown of Indian economy to contain the outbreak of COVID-19 will push India into growth contraction for 2020-2021.
It appears that India will have negative growth of more than 5 per cent, even if most economic activities resume in the next few weeks.
Several businesses like entertainment, hospitality, travel etc would never be the same again.
A good chunk of 70 million small businesses, the micro and small enterprises, will be shuttered.
Employment rate is likely to be 10 per cent lower than last year.
GDP closely equals national income and is shared amongst three principal parties — labour, capital and government.
It is obvious that the government's tax incomes will also suffer.
Despite doubling of excise duties on diesel and petrol, the central government is staring at a shortfall of Rs 3 trillion to Rs 5 trillion in tax revenues.
The states will suffer larger tax income loss.
Divestment and other non-tax incomes will also get upended.
It would be a miracle if the government gets 50 per cent of the projected Rs 2.1 trillion from divestment.
Expenditure obligations, with the 'economic stimulus', are set to rise.
More than the COVID-19 risk, the choice made to go for virtually a total lockdown, will seriously dent the economy, government finances and business and household incomes.
The Rs 20 trillion stimulus should address some of these worries…
Fiscal stimulus, by its very nature, is additional fiscal burden on the public finances.
The prime minister declared that the government and the Reserve Bank of India would deliver a Rs 20 trillion economic stimulus, including the liquidity measures already taken by the RBI.
It equals 10 per cent of India's estimated GDP.
India has chosen to make fiscal stimulus mostly credit oriented.
The RBI has already announced various liquidity facilities of over Rs 6 trillion.
Much of the package announced for the MSMEs, clearing of power sector dues and liquidity for NBFCs etc on May 13 is also credit-based.
The government has offered guarantees, which will turn into fiscal expenditure when these are called on default.
This may take years and only for a fraction of fiscal stimulus amount.
The direct impact on central government's finances in 2020-2021 appears very limited.
The RBI assessment of April 17 drew satisfaction from the resilience of agriculture and allied activities, on the back of all-time highs in the production of food grains and horticulture, with huge buffer stocks of rice and wheat far in excess of the buffer norms.
Won't this bumper crop put even more pressure on government finances — both the Centre's and the states's — in terms of support prices?
And shouldn't these buffer stocks be liquidated: because surely there can';t be a bigger crisis of food than what we are facing today?
India's food economy is in quite a different space than it was in the 1960s or the 1990s.
We produce more foodgrain than what is consumed in the country.
We export food grains. Yet, the surplus produce ends up in buffer stocks.
As market prices tend to be lower than minimum support prices, the government ends up buying lot of food grains.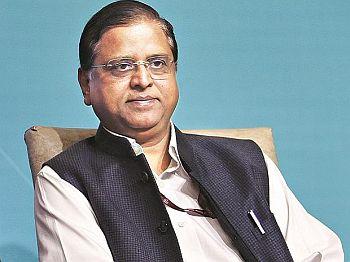 Over Rs 2 trillion is spent on food subsidy annually, which is about 15 per cent of the value of all crops.
Food grain stocks can be 'liquidated' in two ways — export more or consume more.
Given the widespread malnutrition, a legitimate response is to make under-nourished eat more food.
The policy of supplying rice and wheat virtually free is aimed at achieving that.
Additional 5 kg of free ration being distributed currently is also meant to ward off starvation for over 100 million workers who have lost their jobs.
However, subsidised food distribution does not seem to have increased food grain consumption in the country.
A more sustainable solution is to eliminate policy preference for food grain production, develop export markets and transfer food subsidy to poor in cash giving them choice of food.
Source: Read Full Article