The biggest crypto broker is launching Coinbase Index Fund (CBI) for accredited investors which proportionally weighs a basket of assets listed on the exchange.
"If a new asset is listed on the exchange, it will be automatically added to the fund," Coinbase says. Describing a managed fund with a 2% fee, annually rebalanced to maintain the percentage of each asset proportional to their market cap.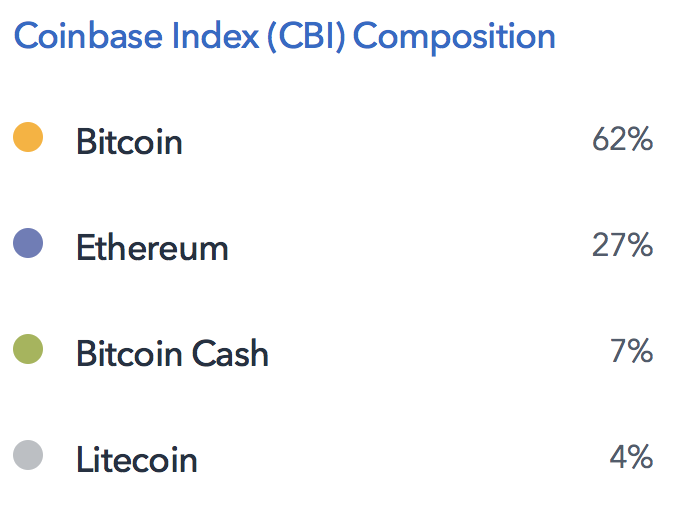 "We are noticing people coming to the space for the first time, being excited about cryptocurrencies, but not knowing where to start, so we're excited to give people the ability to get broad exposure to the entire asset class rather than having to select individual investments," said Reuben Bramanathan, a product manager at Coinbase.
Accredited investors with a net worth of more than a $1 million or an income over $200,000 will be able to buy all of the listed assets at once, rather than just bitcoin or ethereum, and might be able to do so through their pension portfolios.
With it all seemingly being the first step towards a full ETF according to Bramanathan, who stated earlier today:
"When people think about a retail index fund, they're talking about an ETF, and that's obviously a long process to launch.
Our objective here is to get to a position where we do launch a fund that's available to retail, but given the regulatory hurdles, we wanted to offer something to institutional and accredited to begin with."
The rich get in first thanks to the discriminatory Securities Act which prohibits the public from investing in potentially very lucrative, albeit highly risky, deals. Generally limiting them instead to only global corporations.
But you can always simply buy those assets in the same proportional manner and enjoy a 2% annual saving in not having to pay the management fee. However, it would arguably be a bit easier to just deal with one tracker than having to manage all four assets.
"We're seeing strong demand from institutional and high-net-worth individuals," Bramanathan says before explaining you will be able to invest only once per month and withdraw once every quarter.
Moreover, you will not be able to trade shares in the passively managed fund, which won't be listed on an exchange, he added, with the minimum investment standing at $10,000 and limited to US only.
Making it all quite a bit more restrictive than a NYSE traded ETF or the Swedish ETNs, but it does signal an expansion of Coinbase's services, which is rising to become quite a force to be reckoned with in this space.
Source: Read Full Article