Back in October 2017, Bitsonline's Editor-in-Chief Scott interviewed Bitcoin ASIC manufacturer Syan Technologies CTO Koji Tanaka. At the time, no red flags were obvious — under Scott's questioning, Tanaka and the mining play seemed wholesome and forthright. Now, though, it's become clear the operation is nothing short of nefarious, as Syan Technologies has disappeared with investors' funds in tow. Let it be known, now and forevermore: Syan Technologies was an elaborate scam. Bitsonline extends our deepest apologies to our readers for not having been able to spot the scam sooner. 
Syan Tech Is a Scam
After the publication of our October article, weeks passed before the con was apparently finalized. In early January 2018, Syan's website disappeared, and Bitsonline issued the following clarification to our earlier interview:
"Update 1/5/2018:

Syan Technologies website is gone having been replaced with a msg the account was suspended. We will keep you posted with an updated article ASAP as we find out more. This looks like an elaborate scam. We have contacted the Al Zahrani GROUP who is reportedly the parent company for information."
With that said, there can be no more waiting. After repeated failed attempts to contact Mr. Tanaka, the Al Zahrani GROUP, and other company officials in an effort to let them explain themselves or offer remedies, Bitsonline is officially declaring that Syan Technologies is a scam.
When I asked Editor-in-Chief Scott about the radio silence, he noted:
"The parent company does not respond. Koji and Clive do not return calls and emails and the site goes on and off line.

[…] I am very careful and Syan did have work going on I verified that, then did the interview. That being said, they may or may not have started out as a scam but they ended up one."
That kind of unresponsiveness is perhaps understandable during a chaotic 24-hour period. It is absolutely unacceptable and damning, though, now that weeks have passed. It is clear, then: Syan Technologies is a scam.
The 'Syan-Scammed' YouTube Update
19 days after our January 5th update, Scott appeared on Lukas Royal's YouTube show alongside Daniel Krawitz and Shinobius to clarify his experiences and opinions on Syan Technologies.
We highly recommend giving the informative episode a watch to gain a fuller understanding of the apparently elaborate nuances underlying the scam.
GoUrl Developments
Syan Technologies used GoUrl for its payment processing services. Ed Stolte, a victim of the scam, says he received this response from GoUrl after querying about Syan:
"Thank you for your letter

Syan Mining account suspended from end of December last year (violated GoUrl Terms&Conditions).
All payments were forwarded to Syan Mining external wallet address (13T7tzd6GVR7uVFjgvCCcx8kyVo3ziuTbk).
We don't keep user payments on our servers.

Need official request from police and we will provide Syan Mining log IP addresses.

Best Regards,
Tom

Tom Becker
Developer
Gourl.io Team"
Stolte also reports that GoUrl said this bitcoin address appears to have been involved in Syan Technologies' illicit activities. Courtesy of the blockchain, then, we now seemingly have an auditable "paper trail," as it were, through which the scammers' activities may be tracked.
Registry of Affected Individuals Started
In the comments section of the October interview, victims of Syan's scam have been organizing for some time. One of the most resourceful efforts that's been begun has been the "registry of affected individuals" started by the pseudonymous Crypto Joel.
They wrote:
"Martin Holmstrøm I got scammed as well and pissed. I am creating this registry of all affected individuals (see link below) so maybe collectively we can report this scam to the proper authorities. I know it's probably unlikely we are going to get back anything but this shenanigan needs to be reported and investigated. If anyone is reading this comment and affected, I invite you to join.

Scott I am asking your help to get this link out to your new article so we can get all those affected mobilized and as a community figure out next steps.

https://www.surveymonkey.com"
Please, we encourage you to fill out Crypto Joel's survey if you've been adversely affected by Syan's fraud. It's the most comprehensive resource available yet with regard to tracking the breadth of Syan's defraudment of the community.
Syan Appears to Be Based Out of Hong Kong
Many victims have already filed legal complaints with authorities in Hong Kong, since it appears Syan was based out of the global financial hub.
Indeed, in a picture provided to Bitsonline by reader Martin Holmstrøm, Syan Technologies' activities seem to be mainly run out of Hong Kong: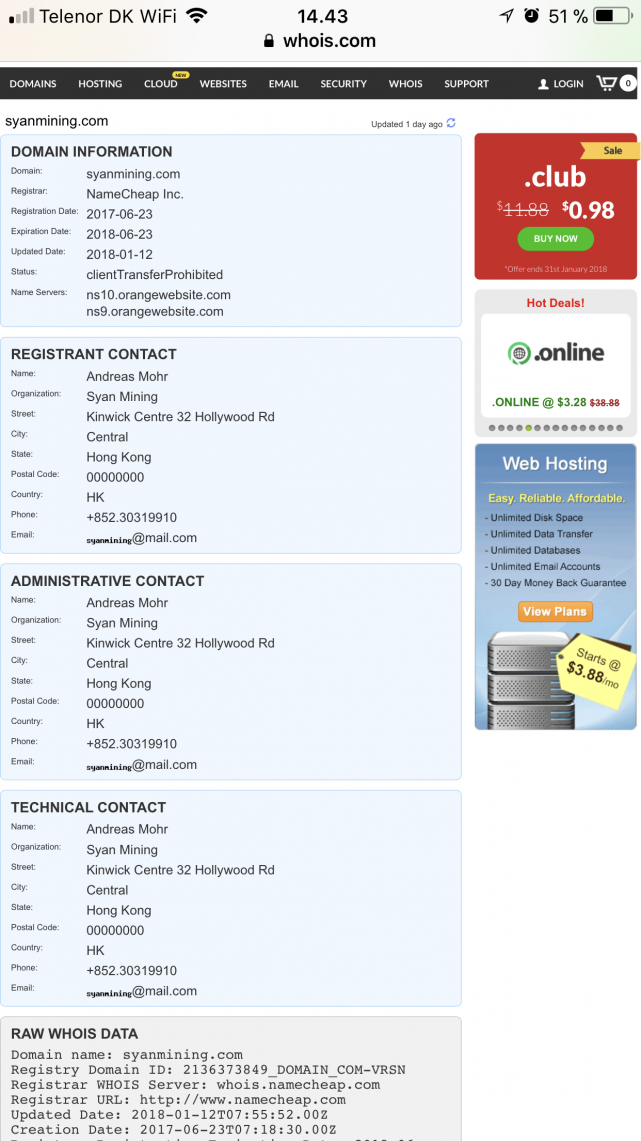 Scott's Statement
Bitsonline Editor-in-Chief Scott's official statement on the Syan Technologies scam:
"The Bitcoin and cryptocurrency industry has drawn scammers to the space like flies to spoiled food. We try to always confirm as much as possible that companies we are reporting on are on level. For every company we report on, there are dozens that we do not, as we find them to be shady or a scam.

In the case of mining equipment, be it ASICs or computer parts like GPUs and such, it can be even more difficult to spot scams. Many of the companies that claim they are making ASICs start out legitimately and find during the process the costs or technological hurdles are more than anticipated. Others are pure scams from the start which we are usually able to weed out.

Unfortunately, even with caution, some slip through or turn into scams after starting out legit. In this case, it is difficult to verify which of these dynamics applies to Syan. No matter what, though, they are a scam and have disappeared. Bitsonline will continue to dig to see if we can find more info and will publish anything we find. It is beyond angering when a scam gets by us — we will continue to be vigilant and always work to do better."
To that end, Bitsonline will keep our readers posted on any developments in this case. Likewise, please contact us if you learn of any new developments yourselves.
Again, Bitsonline deeply apologizes for being unable to catch Syan's scam sooner. We will keep you updated on this scam and do everything in our power to continue holding fire to feet of scammers in the space. 
---
Source: Read Full Article