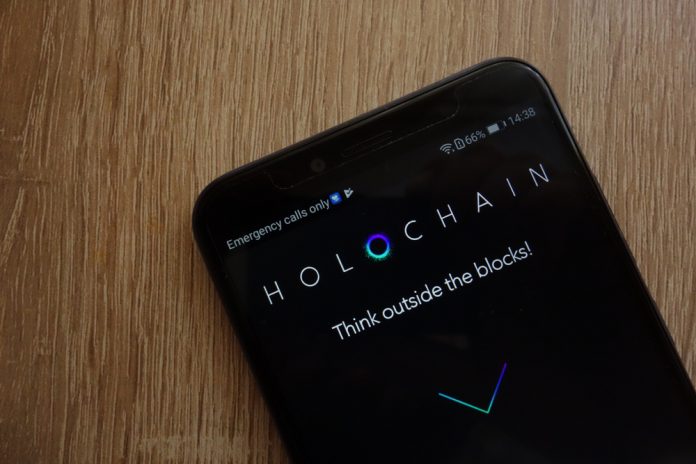 As this somewhat promising weekend of cryptocurrency trading trucks along nicely, it will be interesting to see which markets can continue their uptrend. For the time being, there are some projects which note strong gains, whereas others are still uncertain about their future direction. The Holo price is surging once again, which is a welcome sight for holders after a few rough days.
Holo Price Reclaims Some Lust Ground
It is not uncommon for altcoins to come under pressure when Bitcoin is turning rather bullish out of the blue. That scenario doesn't always apply to all alternative markets, which is only to be expected. Right now, it would appear Holo is moving up rather nicely, primarily because it doesn't note any losses over Bitcoin As long as that situation remains in place, there is a good chance this price run could continue for a while longer.
Over the past 24 hours, the Holo price has undergone some peculiar changes. More specifically, there is a 14% gain in USD value, a 10% gain over Bitcoin, and a 7% increase over Ethereum.  All of these changes are incredibly promising for this altcoin, assuming they can be sustained. That will mainly hinge on whether or not the $13.2m in trading volume will act as support or turn into ballast dragging the price down. For now, it seems to be doing the job, as the Holo value reached 30 Satoshi once again.
On social media, there is a lot of excitement regarding the current HOT price trend. That is only normal, as there are quite a few bag holders who bought in after or during the previous price rush. Dr. Holo, for example, is pleased to see Holo rise so strongly after a rough week. When people get overly excited about such gains, however, there is a good chance the momentum will sour pretty quickly.
For those who are interested in the actual price chart, it would appear things continue to look promising. As long as the 27-28 Satoshi level remains in place as support, there is a chance to push through to 33 Satoshi later today. That is where the resistance will meet the buy support, and the fireworks could potentially begin. It is still unclear whether or not this push can remain in place for some time to come, though.

Any cryptocurrency rising in value right now needs a good meme to keep people's spirits up. Holo has such a meme which features an interesting bit from the Zoolander movie. Although this meme could virtually apply to any cryptocurrency, it seems to fit Holo – or HOT – a lot better. Memes like these show the cryptocurrency community is still rather creative, despite a lot of bearish pressure in the past 18 months.
All things considered, Holo looks to be in a very good place right now. With the gains across USD, BTC, and ETH value firmly in place, it would appear things could get even more interesting over the next few hours. While the volume also looks decent, a bit more trading volume has never hurt anyone whatsoever. The main question is whether or not Holo is capable of producing more trading volume during a weekend, as that is usually a major struggle for any altcoin.

Disclaimer: This is not trading or investment advice. The above article is for entertainment and education purposes only. Please do your own research before purchasing or investing into any cryptocurrency.
Image(s): Shutterstock.com


Source: Read Full Article